Thanksgiving may be our most altruistic holiday. No gifts are exchanged except for expressions of gratitude. In many households this Thanksgiving, we will gather to give thanks, for our family, for our friends, and perhaps, our most loyal companions, our dogs.
There is no denying the exceptional bond between humans and dogs.  Some evolutionary biologists claim that mankind would not have survived through the millennia without dogs at their side to help them.
Whatever the reason, there is something within we humans that ties us to this other species in a way that no other connection among any other animal has ever duplicated.  And, there is little question, that this is not a one-way relationship.
Our mutual devotion, however inexplicable, may be the reason that our early childhood stories, seem – deep down – not quite so improbable as their fictional purpose would portend. When Tommy asks Lassie to get help, to let someone know he's stuck inside the well, we know this is an improbable situation, the stuff of fairy tales. Yet, such tales do exist, rendered as fact. not fiction. And, unlike the stuff of children's stories, they're delivered with undeniable proof.
The proof?  Quite simply, every one of the following dogs saved someone's life.
We give thanks for dogs, and feel especially grateful to those who have been singled out for their courage and devotion. Not every dog who does something as incredible as those in the stories that follow is acknowledged. So, this Thanksgiving, let's give thanks for every dog, every where.
Frida, search and rescue
On September 19, a deadly 7.1 magnitude quake erupted in central Mexico killing more than 300 people. No one knew how many people might still be alive but trapped in the rubble within the collapsed buildings.
Numerous rescuers and volunteers started work to find any survivors.  Among these indomitable rescuers, one stood out. Her name is Frida.
Wearing goggles, a khaki harness and booties, Frida, a 7 (or 8) year-old yellow Labrador retriever, captured the hearts of the world. She is a search and rescue dog with the Mexican Navy. According to her trainers, Frida has a "sixth sense" for finding humans, that's unlike any other dog they've ever trained before.
Over the course of her career, she has rescued 12 people after earthquakes and other disasters in Mexico, Haiti and Ecuador. She's also found 53 bodies buried under rubble.
When the president of Mexico praised her work, she made global headlines. There is now a campaign to replace Diego Rivera's on the 500 peso banknote. Murals have been painted in her honor, and her image now appears on shirts and mugs. There is even a stuffed animal created in her likeness which appears to be flying off the shelves.
In a country plagued by malefaction and divisiveness, Frida seems to have given Mexico a renewed sense of hope. As reporter, Franc Contreras, with the China Global Television Network,  stated: "There have been a lot of reasons to divide Mexicans, politics, economics. But after this disaster, you could really see the country pulling together and somehow, you know, these furry creatures on the scene helped lift people's spirits." (Ref: L. J. Kott. A rescue dog named Frida has become a national hero in Mexico. PRI's The World : October 06, 2017).
Roselle, a guide dog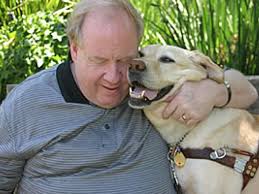 Roselle, a Labrador retriever, guided her partner, Michael Hingson, down 78 floors of the burning, smoke-filled, staircase in the North Tower of the World Trade Center, during the catastrophic morning of September 11, 2001.
As the intensive booms, heat and fumes from the jet fuel cascaded through the building, Michael picked up Roselle's harness, trusting that she would lead him out of danger.
As some of the firefighters started to pass them, each one stopped to offer him assistance. Michael declined but most of the firefighters gave Roselle a pet. We know now that for almost all of them, this moment with Roselle was their last experience of loving affection.
When a woman became hysterical, yelling that they wouldn't make it, Roselle nudged the woman until she finally petted the dog, calmed herself, and kept walking down the stairs.
In spite of the chaos, ashes, dirt, dust, and screams, Roselle safely guided Michael down 1,463 steps to the lobby. But, once outside, more chaos erupted as the South Tower started to collapse, engulfing them in a "deafening roar."  With debris falling all around them, Michael urged Roselle across the street, where she led him to safety.  Ultimately, in spite of the madness that had erupted and the hellish circumstances they had both endured, Roselle and Michael made it home.
In 2004, Roselle developed a blood disorder, and she retired from guiding and touring three years later. She died in 2011.
'I've had many other dogs," Michael wrote, "but there is only one Roselle.'" [To read the full story of Roselle's amazing efforts during 9/11, read Thunder Dog: The True Story of a Blind Man, His Guide Dog, and the Triumph of Trust at Ground Zero written by Michael Hingson and Susy Flory.]
Shana, a half-German shepherd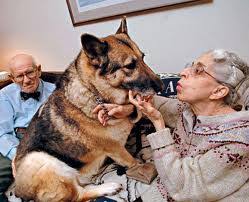 Eve and Norman Fertig, who are in their 80s, run an animal sanctuary in Alden, New York. The evening air was cool when they walked over from their house to feed the animals at the sanctuary. Assuming they would just be gone a short time, they were not prepared for a sudden snow storm. Without warning, a sudden blizzard hit and felled several trees on the property. Cut off from any means to return to their home because of the deep snow and felled trees, they found themselves trapped.
Alone, except for their dog, a hybrid German shepherd-wolf they had rescued from a puppy mill, the elderly couple huddled in fear as the temperature steadily dropped. Without any means to contact someone, they begun to lose hope. That was when their 160-pound rescue dog, Shana, took action. The dog, who generally followed the Fertigs on their sanctuary rounds, started digging through the snow and beneath the fallen trees, creating a tunnel. With teeth and claws, Shana dug for two hours, making a 1-foot-wide tunnel 20 feet back to their home.
According to the Fertigs, when the dog completed the tunnel he returned and barked at them to follow her. But Norm was hesitant: "I had enough in Okinawa in a foxhole," he said, referring to his service in World War II. Eve threatened, "'Norman, if you do not follow me, I will get a divorce.'" Married for 62 years, Eve said her words got Norm's attention. 'That did it,' he said. 'A divorce? That would scandal our family.' I said, 'all of our family is dead, Norman!'"
Eve climbed up on to the dog's broad back and clung to his massive ruff of fur. Norman took hold of Eve's legs. It took hours, but Shana pulled them both through the tunnel in the snow and all the way back through a gap in the fence to their house. "It was the most heroic thing I've ever seen in my life," Eve Fertig told Fox News.
When neighbors were unable to reach the Fertigs during the night, they called the Fire Department, which arrived the next morning. Once at the home, they found Shana next to the couple, using her body heat to keep them warm. The house had no electricity or heat but Eve said the dog "laid on top of us and just stayed there and kept us alive … that's where we laid until the fireman found us."
Shana was later given the "Citizens for Humane Animal Treatment's Hero's Award for Bravery" for her actions to save the lives of her family.
Jake and Trakr, search and rescue dogs
Stories of search and rescue dogs abound, and among the best known is Jake, a black Labrador retriever. He was "on duty" during some of our country's worst moments – 9/11 and Hurricane Katrina. Jake worked tirelessly helping find human remains in the rubble of the Twin Towers. Like others who helped during this tragic time, he was exposed to the hazards of Ground Zero: burning ash and polluted air. He continued work in finding survivors in the Gulf Coast after Katrina. In his later years, he helped to train younger dogs before retiring in 2006 due to cancer.
A Canadian police dog named Trakr found a survivor the first time he worked the 9/11 site — one of only five found that day. Officers pulled out Genelle Guzman-MicMillan, who was on the 13th floor of the South Tower when it collapsed. She spent 26 hours under the rubble before the German Shepherd found her. On September 14th, Trakr collapsed from chemical and smoke inhalation, burns and exhaustion. He was treated and the sent home with the Canadian police officers who brought her.
There are more stories of dogs performing heroic acts: stopping an assault on a defenseless woman, "calling" 911 for a man having a seizure, leading responders through the dense growth of a cliff-side to reach a severely injured driver in an overturned car, alerting a family asleep in a house filling with carbon dioxide . . .  Hundreds of stories, hundreds of dogs. But for me, the best and most heroic moment is when I turn the key in my door, after a long and difficult day, knowing that a furry-form of love is waiting on the other side.  Always there. My buddy, my best companion, my beloved dog for whom I give thanks every day of my life.
For more wonderful stories about heroic dogs, click here:
https://www.rd.com/advice/pets/heroic-dogs/2/