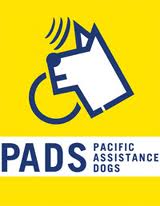 We received an important question from renown dog trainer, Pat Brown-John, the director of  All About Obedience.  Although the example she gives is related to private training, this is an important issue, one with direct ramifications for others who want to train their own dog or have a professional trainer do it.  I therefore asked the directors of two highly reputable service dog organizations, one in Canada and one in the United States to respond.  Each of them kindly did so.  I chose to split their answers into two different blogs, since the regulations for each country are quite different.
Dear Dr. Bloom,
I have a client who is spending most of his time in a wheel chair.  He bought a German shepherd puppy as a pet but while we were training her to be a good, well behaved pet we decided this pup could actually grow into a dog that could help him with some of the tasks that he finds difficult.  The pup is learning to pick up things off the floor or turn on lights, press the button to open door into stores, and get the man's wife in emergencies.   
This dog will not be going through a service dog program but when she is finished being trained she will be a great help to her owner.  My question Dr. Bloom is: Would this couple be able to call this dog a "service dog" and be able to gain access to stores and eating establishments, etc?
Is there a place that evaluates dogs and handlers so that they can use their dog in public without feeling like frauds?
 
Thank you,
Pat Brown-John
Director, All About Obedience
Response from:
Laura Watamanuk
Executive Director
Pacific Assistance Dogs, Canada
Canadian Laws are considerably different that those in the United States.  Most provinces have specific legislation that pertains to working dogs. Approved schools are provided public access rights by the government and school identification/logo has to be easily identifiable on the cape or vest along with proper identification.
Dogs that are trained by private individuals are not certified and allowed public access rights.
For example, legislation in Alberta provides access rights to dogs trained by schools that are accredited under either International Guide Dog Federation or Assistance Dogs International.
British Columbia has a list of approved schools.
The schools that have public access through the Government maintains ownership of the dog and conducts follow ups and recertification of the team.  Because of these stringent regulations I do not know of any school that will certify a privately owned or privately trained dog as we would be assuming liability.
Our sincere thanks to Director, Laura Watamanuk of PADS (Pacific Assistance Dogs Society)
For further information contact:
Pacific Assistance Dogs Society (Canada): http://www.pads.ca/#sthash.R5LSyn23.dpbs
International Assistance Dog Partners: http://www.iaadp.org/