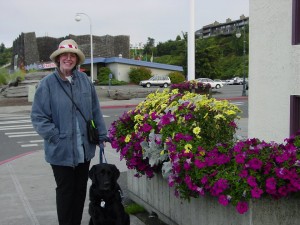 Patricia Bloom, Ph.D. was a faculty member in the Department of Psychiatry at the University of Miami School of Medicine.
During her tenure at the university, she became the director of the Center on Aging and Disabilities.  It was during this time that she received her first service dog.
A research psychologist, she realized the importance of educating the medical community. As the idea of assistance animals for physical disabilities was new at this time, she developed the first hospital guidelines for service dogs, which continue to be used throughout the country.
During the past few decades, the idea of using dogs as a therapeutic adjunct has rapidly grown. However, the available scientific data has not kept pace.  Additionally, close examination of the data revealed a disturbing trend: many of these studies, although optimistic in outcome, had serious methodological problems. Therefore, to provide an objective analysis in the allied field of pet therapy, she conducted the first, double-blind study to determine the effects on mood for individuals in chronic care facilities.
Today she writes and speaks about the difference between pet therapy and service dogs — and how individuals and the community can benefit from both.