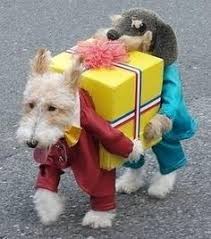 Each year, our industrious staff searches high and low to bring you the kind of gifts any service dog or pet partner might want for the holidays.  We hope you enjoy our "annual round-up" of gifts. And, of course, MyMagicDog selected useful as well as those special gifts for the dog who has everything (read: expensive!).  Jump right to the end of this post to see those gifts in case you recently won the lotto or your dog is sniffing and pawing at Santa Claus-size bags of cash lying around your place.
Please note that we do not endorse any item on this list.  In fact, our survey is (totally) unscientific especially since our general manager (Morgan, the German shepherd) is the only one who deemed them appropriate for our list — and he likes to chew muddy grass and old snow.  So, with that disclaimer and cautionary note, here is the goodie-list for this year's service dog or your faithful Fido.
SEE, HEAR + TALK to your pet right now from anywhere using your smartphone, tablet or iPad.  Two way audio, Motion detection, instant alerts. No contracts or monthly fee.
GoDogGo
Fetch Machines are Santa's #1 choice for fetching fun this season – Making the safest automatic dog ball launcher for 18 years. Use GoDogGo in auto fetch mode or owner-controlled play.  
godoggo.com
No subject is too small, complicated, or embarrassing:
My puppy's teeth are falling out. What is wrong? Page 55
Do dogs with heart disease need a special diet or exercise restrictions? Page 272
Should I soak my dog's cracked footpads? Page 113
What can be done for a dog with hip dysplasia? Page 231
Is a vegetarian diet healthy for dogs? Page 73
I don't like using pesticides. Is there a less toxic approach to flea control? Page 165
My dog licks his paws constantly – why, and how can we get him to stop? Page 198
And many more…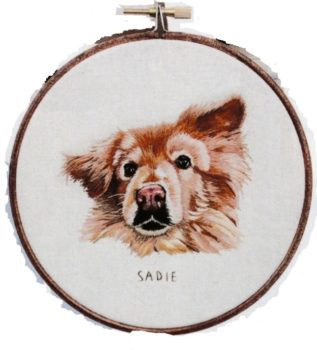 A portrait of your fur-friend embroidered by an English artist. (emillie-ferris.co.uk)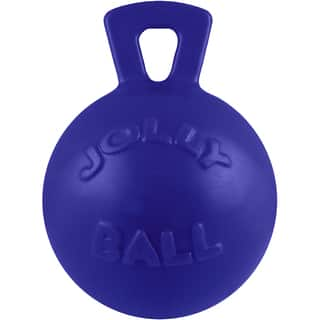 Tug-N-Toss Dog Toy  (highly recommended by Morgan, Chief Executive dog at MyMagicDog.com. Available for about $12 at most pet stores.
Louis XV Pet Pavilion – $23,990
Made with French Rosewood and Mahogany. But you have to supply your own fabric for the interior. (What??? They can't add a little silk for that price?)
Mink Fur Coat for Dogs – $725
Available through Hartman & Rose.  (Note from Morgan: Frankly darling, I prefer FAUX-fur.)