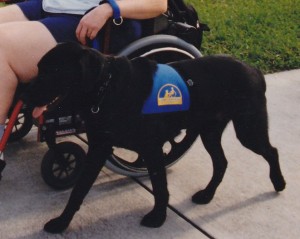 The question I am most often asked is: What is a service dog? 
The answer isn't as straightforward as it could be, since the federal government's terminology has inadvertently confused the issue.  Most service dog organizations subscribe to the use of the umbrella term "assistance dogs," to include three categories, of which "service dogs" is one such category – the others being guide or hearing (signal) dogs.  The federal guidelines, however, use the term "service animal" to include the three categories.  

We recognize that the terminology is still evolving.  With that in mind, let's look at the federal regulations.  According to the American with Disabilities Act (ADA):
. . . a service animal is any guide dog, signal dog, or other animal individually trained to provide assistance to an individual with a disability. If they meet this definition, animals are considered service animals under the ADA regardless of whether they have been licensed or certified by a state or local government.
Service animals perform some of the functions and tasks that the individual with a disability cannot perform for him or herself. Guide dogs are one type of service animal, used by some individuals who are blind. This is the type of service animal with which most people are familiar. But there are service animals that assist persons with other kinds of disabilities in their day-to-day activities.
Some examples include:
Alerting persons with hearing impairments to sounds;
Pulling wheelchairs or carrying and picking up things for persons with mobility impairments;
Assisting persons with mobility impairments with balance;
Calming a person with a Post Traumatic Stress Disorder (PTSD) during an anxiety attack.
A service animal is not a pet.
This is only part of the answer to the question, "What is a service dog?" and in future blogs we will respond to the different facets of service dog requirements.  If you have a particular question, let us know and you may see your question, and our answer, right here!  Please join us in discussing the important role of service dogs.
With appreciation to: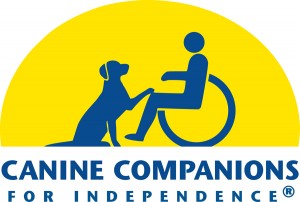 For further information on service dogs, or if you are interested in applying for one,
please visit the web site for Canine Companions for Independence.