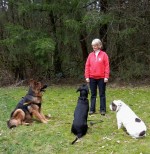 Should you use treats to train your dog? We received so many questions regarding a previous post ("Should I use treats in obedience training?" – June 26, 2012), it was clear that "using treats in your dog training" is an important topic. We therefore decided to give the question of treats-in-training some additional attention in our series of posts about how to train your dog.
While we expected questions and comments (even disagreement!) from pet-owners, trainers themselves strongly endorsed the principles described. Interestingly, almost all the questions also came from dog trainers. As a result, we selected one question from a trainer who best exemplified the comments from others who wrote.
Using Treats in Your Dog Training:  Question/Comment
Hi — I was appalled to read the story of the elephant [see Blog April 10, 2012]. I'm a trainer and this story made me think about my own training (mostly Rottweilers and other large dogs). I've tried using only treats to get or change behaviors but I need some help. People tell me that when they bring the dog home, he or she reverts to the same problem behavior. Any advice you could give would be appreciated.
Harold B. – 3 weeks ago
From Pat Brown-John:
Pat Brown-John is a five-time Canadian Schutzhund champion, with national and international titles spanning a training career of more than 30 years.  Here is her response:
Dear Harold,
We as trainers have a responsibility to the owners of the dog we take in for training.  They fully expect us to be able to train their beloved dogs to be well-mannered members of the family they can be proud of at all times.
We do the job of dog training because we love to be around dogs, especially well behaved ones and we have a gift of being able to communicate to the dog what is expected of him in his day-to- day life.
When a dog has been given full rein at home to do whatever he pleases, until no one can take it any more, food is not going to change anything.  When a puppy misbehaves, the mother dog doesn't run and find him a piece of food, rather she gives a quick correction and they move on.
So is it with our training.  First we show the dog what we want of him.  He complies and is given lots of praise ("good boy" and a ruffle of the fur, maybe we even jump back and play) then the command again.  Work sessions should be short which will leave the dog wanting more.
After the dog shows he understands the command you are asking, bring in a distraction, perhaps a person walking past, or repeat the exercise in a different area.  If, this time, the dog refuses the command, give a correction that gets his attention but does not put him into a fight or flight mode. Only use as much correction as you need for that particular dog.  When he complies, break and play or give quiet praise, whatever the situation requires.
I do use food in some situations.  When a dog is in the "down," I'll leave the room. When I come back, I'll give pets and quiet praise or I'll drop a piece of food.  The dog will not see my hand bringing the food because I don't want the dog expecting that every hand has food in it.  A lot of my families have children so a dog wanting to take food out of their hands won't work.
A basic truism: If the dog truly doesn't understand that he must do the exercises asked of him, then when he goes home he will not do any of the exercises asked of him.
When the dog goes home he will try to take back what he had before he left.  It's our job as trainers to work with the family and the dog together to ensure they are all on the same page.  When the dog knows that the family knows the same rules he has been taught, he will follow those rules.  I take time with my families to ensure they know how to make a proper correction– not drag the dog into position.  A week later, I work with the family again to make sure that all the training is working for the family.  After that I am just a phone call away.
If you are getting referrals from your families, you're on the right track.
Gook luck Harold and good training.
Pat Brown-John
All About Obedience
For an in-depth perspective on this subject from another professional trainer, click on: Balanced Training.