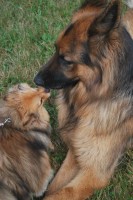 Some of us like big dogs, some like little ones, and some like big and little and everything in between.
One of the more interesting questions in the dog-world that has, apparently, never been answered to anyone's satisfaction (although there are hundreds, if not thousands, of articles and books about it) is: Why do we like one kind of dog over another?
When I was young, one of my favorite party tricks was to tell someone what his or her personality was like based only on their response to their favorite breed of dog.  More often than not, my "analysis" was so completely on the mark, that people were stunned.  I recall friends of one woman screeching with laughter, confirming what I'd said, while the poor girl protested vigorously. (As I recall, she was rather like an Australian shepherd — gorgeous and super-smart, but always running around trying to herd every man in sight.)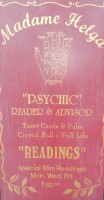 I'm still somewhat able to describe various attributes of someone's personality if I know the breed he or she prefers, although this is becoming less so with the multiplication of "designer" breeds. I also don't do this much anymore since the idea of relating someone to a particular breed is akin to advertising a particular pedigree. Obviously, this is not something I want to endorse, given my commitment to shelters and the pressing need for the many, fine "Heinz 57″ mutts to find a loving home.
But the question does persist and I would really like to know: What kind of people are primarily attracted to Big Dogs versus those attracted to Little Dogs?  I do think there is a significant difference and it would be fun to try to figure it out.
So… here's the challenge.  If you are distinctly a Big Dog or Little Dog person, write and tell us why. We'll compile the answers and, perhaps, be able to answer the riddle as to why we are attracted either to Big Dogs or Little Dogs.
Send your reply to info@mymagicdog.com, click on "comment" directly below the blog summary, and start your response with: "I am a (big dog) or (little dog) person because . . ."
(If you don't have a preference but would like to respond anyway, please do.  We'll read them all!)
Check out the following for interesting information on various dog breeds: