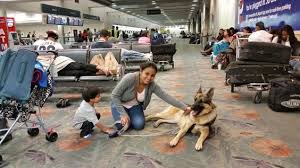 As Irma swept ever closer to the Florida coast, most of my family waited at the Ft. Lauderdale airport.  We had been through hurricanes of this magnitude before and knew we needed to get out.  But would we be able to leave before the airport shut down?
Naturally, the airport was jammed with hundreds of people in the same situation. (At the nearby Miami International Airport, many more thousands waited.)
People seemed unusually patient, even though our anxiety was writ large.  We had been through this kind of exodus before and there isn't much to do except wait and hope, talk to others in the same predicament, and keep calm.
In situations like this, airports are largely the same, people moving about dragging suitcases, looking tense and worried. But there was a notable difference this time, an almost shocking difference because so many people were smiling. We were surrounded by wagging tails. The airport was flooded with dogs. It seemed almost everyone leaving had a dog with them.  In one corner a huge golden retriever chased a ball thrown by a small boy; in another corner, leashes were getting tangled as three little dogs scooted under chairs and around pillars.
The usually glum airport agents were cheerfully helping people to lift some of the larger dog crates up on to the luggage carriers.  One crate was too big and three agents came out and hoisted it over the belt.  While I couldn't hear the conversation they were having with the parents and children whose dog was evidently going to harbor in the crate, their fearful looks changed to smiles. So, whatever the agents said must have been comforting.
I was thrilled to see how many people were evacuating with their dogs.  So different from Katrina where people seemed largely unaware and unprepared to help their dogs evacuate with them.  Worse, the agencies charged with helping people leave during Katrina did not allow them to take their dogs. An image that will stay with me forever is of a blind man who struggled to explain that his guide dog had to come on to the bus with him.  His flailing and agonizing tears as those manning the evacuation tore his dog's harness away from him is something I shall never forget.
How different things are now.  Hopefully, we have learned our lesson. Shelters for dogs and other family pets were among the first things set up for people who had to evacuate.
Nevertheless, human nature being what it is, disasters bring out the best – and worst in us.
In spite of the many people who refused to evacuate without their pet(s) during previous storms, there were many whose callousness was shocking in its ignorance and cruelty.
"In Palm Beach County, animal control officers rescued 49 dogs and two cats that weren't just left inside a house, but rather tied up or somehow restrained so they would have no way of even attempting to escape if there is flooding…" "They are left in a yard, in a pen they cannot escape from or tethered to trees or poles," Palm Beach County Director of Animal Care Diane Suave said." [Politi, Daniel "Dozens of Dogs Left Tied Up in Florida as Hurricane Irma Approached," The Slatest, Sept 10, 2017].
State Attorney Dave Aronberg promised to level felony animal cruelty charges against anyone who does this, pending the availability of evidence. "This is a prime example of animal cruelty," he said.
Thus, at least in Palm Beach county, those who desert their family pet could face, not a warning, not a misdemeanor, but be charged with a felony: Jail time. Some people may think that's too harsh a judgment. What do you think?

For an easy-to-read review of traveling with your dog, see this great infographic from HerePup.com:  #Infographic
♦ Given the horrendous onslaught of destruction in Texas, Florida, the Caribbean and the earthquake in Mexico, please give as generously as you can to the charity of your choice.  However, before sending any funds or supplies, check to ensure that the charity is legitimate. As always, during catastrophes, there are unscrupulous individuals who use disasters as an opportunity to enrich themselves.  There are a variety of charity review/ranking sites on line and it's easy to see if the charity you choose has legitimate standing. Three reputable sites include: CharityWatch, Charity Navigator, and BBB Wise Giving Alliance.