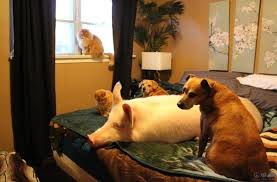 Service dogs generally stay with their human partner, but periodically, just like family pets, you may have to travel and leave him or her behind. The question then becomes where to board your dog. Increasingly, people are looking into home sitters, individuals who come into your home to take care of your pet. Many of them (like our friend Barbara Peterson, see below) are also willing to water your plants, pick up your mail, take in the newspaper, and help with other basic chores around the house.
Before hiring someone to take care of a beloved pet in your home, check out the things you need to do from our previous blog: How to Select a Pet Sitter for your Service Dog or Family 'Fido.'
Below is a brief interview with our favorite local pet sitter, Barbara Peterson. But being a pet sitter isn't as straight-forward and easy as it sounds. After interviewing Barbara, we reached out to ask other pet sitters what their work was like. A few of them told us about some really bizarre situations they encountered. We know the animals are great, but sometimes the people aren't quite as forthcoming as one would like. We thought you'd enjoy reading a few of their stories:
• I live in a rural area and trying to find a client, I got lost twice. After meeting the gentleman and playing with his two lovely, elderly dogs, I addressed my greatest concern. "Since we're so far away from everything, where is your nearest Vet?" He thought about it for a moment then, taking me outside, pointed down the road to a house with a blue roof. "That's the closest vet," he said. As luck would have it, a few days later one of the dogs got his paw caught on barbed wire and had a very nasty cut. This was beyond my basic medical skills, so I bundled up the dog and carried him down the road to the house with the blue roof. I wasn't surprised that there might be a clinic inside a home, since our local doctors sometimes used their own houses for routine care. I rang the bell and explained what had happened. But the gentleman looked at me with a puzzled expression and made no move to let us come in. "You are a vet, aren't you?" I inquired. With that, the fellow reached behind him and pulled down a hat from the clothes rack behind him. Emblazoned on the front were the words: "Proud Vet of Viet Nam." Ooops… wrong "vet." — Janie T., Loganville, GA
• This man said he would be away for just a day and a half, but he needed someone to watch his two kitties. He didn't mention that they were two full-grown cheetahs that he was taking care of until they could be transported to a permanent wildlife sanctuary. — Alison G., Erie, PA
• He told me her name was, "Mable," and that she was quiet and gentle. She liked to curl up inside an old, glass terrarium; otherwise she preferred to sleep on his bed. I told him that would be fine as I don't like to disturb an animal's routine any more than necessary. Well, I've taken care of dogs that slept in weird places (one who loved the bathtub) so I didn't press too much. Big mistake. "Mable" was a 7 ft long python.
• Katie is the co-owner of a pet sitting business and said she and her business partners have seen enough to write a book. (She asked me not to use her real name). For example, one of her clients insists the pet sitters speak to her plants to make sure they are "happy and content. And we need to move them to a new location if we sense they are depressed." This client has a nanny cam to make sure everything happens exactly as she wants it, according to Katie. (For more stories from from pet sitters, click here or just Google: Pet Sitter Horror Stories).
Our own favorite Pet Sitter, in the western Washington area, is Barbara Peterson. Her responses (and numerous recommendations) represent the kind of person you want to have as your in-house pet sitter.
How long have you been a pet sitter?
I have been pet sitting for 3 years, 2 years helping another pet care business and 1 year with my own business.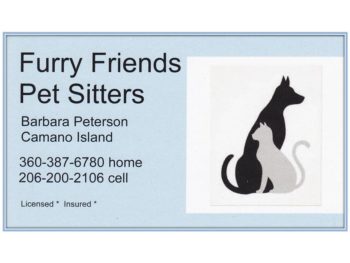 What services do you offer?
My services include dog walking, feeding, filling water bowls daily, playtime, brushing. For kitties, I feed, water, brush, clean litter boxes, pet and play
Do you ever stay overnight?
I will do that occasionally in special cases.
What is your background? What training, etc. do you bring to this type of work?
First of all, I provide loving, responsible pet care in your home. Most pets are happiest and less stressed at home. I have been a dedicated pet-parent my whole life, as is my husband of over 50 years. We currently love and care for 3 cats and 1 dog. In the past I have trained and worked with a certified therapy dog, my own dog in this instance. I have fostered kittens. I have been a dedicated volunteer for the Camano Animal Shelter (CASA) for a dozen-plus years and served on the board of directors for the shelter. I have participated in dog training classes over the years, and took a Tellington Touch class.
What other services do you usually provide?
I also am happy to pick up the mail and newspaper daily, and water plants.
We know you have received "rave reviews" from clients. What's been your favorite response?
One client said that "I strive to leave no footprint even when I have stayed overnight."
By the way . . . Pet Sitters often have a trove of information, gleaned from their experience in dealing with all kinds of cats and dogs (and other animals). Since now we know how critical the right kind of food is for your pet, we asked Barbara for her recommendation. She suggested "PureVita" and "NutriSource." (See the brochure covers below.) We suggest you get the brochures and read about these pet foods. We did — and we're impressed!