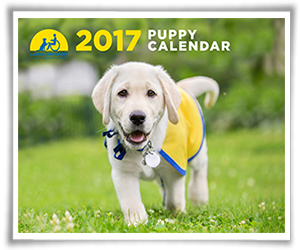 Holidays are a time for great celebrations and festivities. In the life of a human, we enjoy national, international, religious, and just-for-the-fun-of-it holidays throughout the year. Because we want to share our happy times with our animals, there are several days and even entire months throughout the year that have been designated as holidays with dogs in mind. Take a look at the special, fun and awareness days for dogs throughout the year.
JANUARY
The entire month of January is Train Your Dog Month and National Walk Your Pet Month. The rest of the month brings special days for dogs, such as January 2 that has been dubbed National Pet Travel Safety Day. If you like to see your pup in costume, then January 14 is your day. The 14th of January is National Dress Up Your Pet Day. Perhaps one of the most celebrated days of the year for assistance dogs is January 29, a date set aside to remember the Seeing Eye Guide Dog birthday.
FEBRUARY
February is the month of Dog Training Education as well as Pet Dental health Month and Unchain a Dog Month. While you're celebrating the loves of your life on Valentine's Day, it is also National Pet Awareness Day. Get out and enjoy some exercise with your dog on February 22, Walking the Dog Day, then treat your beloved canine on February 23 with International Dog Biscuit Appreciation Day.
MARCH
March brings us entire weeks, such as the first week celebrating Professional Pet Sitters, and then a just-for-fun-day on March 3: If Pets Had Thumbs Day. March 13 honors K-9 Veterans Day, and March 23 brings us National Puppy Day. Can't you just hear the "Aw, how cute!"
APRIL
The month of April is American Red Cross Pet First Aid Awareness Month, APSCA's Prevention of Cruelty to Animals Month and Adopt a Greyhound Month as well as National Heartworm Awareness Month and Prevent Lyme Disease in Dogs Month. It also brings us such gems as the first week filled with International Pooper Scooper Week. April 8 is National Dog Fighting Awareness Day, April 11 celebrates National Pet Day, April 18 Pet Owners Independence Day, April 19 Pet Owners Day and a week towards the end of the month for National Pet ID Week. One of the just-for-fun days is April 21 that celebrates Bulldogs Are Beautiful Day, April 26: National Kids and Pets Day, and April 26: National Pet Parent's Day. April 29 is International Guide Dog Day.
MAY
The entire month of May is ACVO Service Dog Eye Examination Month, Chip Your Pet Month, and Go Fetch! National Food Drive for Homeless Animals as well as National Pet Month. May Day, May 1, brings us National Purebred Dog Day, and then May 3 celebrates Mayday for Mutts. May 3 also is National Specially-abled Pets Day. May 8 is National Animal Disaster Preparedness Day. There are also weeks in the month dedicated to National Pet Week and National Dog Bite Prevention Week.
JUNE
While May is Chip Your Pet Month, June is designated as National Microchip Month as well as National Pet Preparedness and Social Petworking Month. The first week of June brings us another Pet Appreciation Week, June 9 is World Pet Memorial Day, while June 19 is Ugliest Dog Day and National Pets in Film Day. June 21 is National Dog Party Day, and June 26 is Take Your Dog to Work Day.
JULY
Ironically, as the Dog Days of Summer begins, the month is not as packed with dog celebration days. Perhaps, it's because the dogs are too hot and trying to cool off. The month of July is National Dog House Repairs Month, so the humans get to go outside and swelter while fixing the dog's dwelling. July 15 is National Pet Fire Safety Day, and July 31 is National Mutt Day #1.
AUGUST
August 1 is DOGust Universal Birthday for Shelter Dogs Day. The first week of August is International Assistance Dog Week, and August 4 is National Assistance Dog Day. August 10 brings us Spoil Your Dog Day, and August 26 is National Dog Day.
SEPTEMBER
September brings us a month of AKC Responsible Dog Ownership Month as well as National Guide Dogs Month. September 13 is National Pet Memorial Day as well as National Hug Your Hound Day. September 19 is Responsible Dog Ownership Day and Puppy Mill Awareness Day. A week toward the end of the month is National Deaf Dog Awareness Week and National Dog Week. September 23 celebrates Dogs in Politics Day and September 28 is World Rabies Day.
OCTOBER
October is National Service Dog Month and Wishbones for Pets Month. It is also Adopt a Dog and Adopt a Shelter Dog Month as well as National Animal Safety and Protection Month and Pit Bull Awareness Month. October 1 is National Black Dog Day, the 4th is World Animal Day and Blessing of the Animals Day. An entire week in October is designed to National Walk Your Dog Week.
NOVEMBER
November brings us National Senior Pet Month, Adopt a Senior Pet Month and National Pet Diabetes Month. On November 1 celebrate National Cook for Your Pets Day. On November 11 celebrate dogs who have served our Veterans on Veteran's Day, and then give thanks on Thanksgiving.
DECEMBER
December 2 is National Mutt Day. December 22 is Keep Pets Safe in Winter Day. December also brings us Christmas, and usually the same month as Hanukkah. This is the time many people consider adopting a puppy from their local shelter as the ideal family gift. Celebrate your gift-giving/receiving holidays, but remember that puppies are a gift that require a lot of thought for a lifetime of care to follow.
Happy New Year
and
May your own 2017 calendar
be filled with furry-fun and love!
To purchase the CCI 2017 calendar with service dogs, click here:
Canine Companions for Independence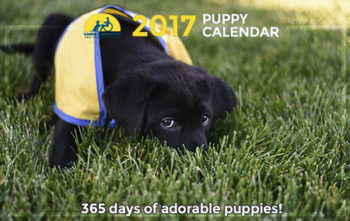 In appreciation to:
Tere J. Scott for contributing this article