It's that time year again when we give thanks for our dogs (whether service dogs or pet dogs) and our fellow humans. Every year when Thanksgiving rolls around, friends and family begin sharing one thing they are thankful for throughout the month of November.  Maybe, you've taken part in sharing one thing you are thankful for each day. There is the anticipation of family gatherings complete with pumpkin pie, turkey, with all the trimmings, or thumbing through Black Friday ads to plan your strategy for the following day.
Whatever makes you grateful on Thanksgiving, have you ever wondered what your dog would say if asked, What are you thankful for this Thanksgiving? Your dog's list probably looks something like this:
I am thankful for belly rubs. With the house filled with the extended family and guests, I get extra attention and more belly rubbing time.
I am thankful for dog toys. Well, maybe not that squeaky, rubber toy that tries to fool me into thinking it is food, supposedly trying to resemble a turkey drumstick. But, overall, I'm very happy I have toys to play with and chew on.
I am thankful for a full water bowl, for the crumbs that drop from children's hands, and the treats and "good-boy" or good-girl" praises and pets.
I am thankful for running for that Frisbee and pulling on that tug-o-war rope chew toy. Sometimes, when the house is crowded with guests on Thanksgiving, my human takes me out back to get me away from the chaos. That's when the two of us get to play together for awhile. I run after the Frisbee and try to catch it mid-air, or I growl as I pull on that little rope toy. Sometimes, I even get a treat afterward.
I am thankful that I don't have to wear a silly Thanksgiving costume, like that uncomfortable one they made me don on Halloween that made everyone laugh at me (or the one in this picture. Eeek, poor dog!).
I am thankful for my dog bed where I can get away from the noise and relax in a place I feel safe.
I am thankful that my family is together and happy. I am loyal to them all year, and it's nice to sit back and watch them get along as well. I think, this is my ultimate goal in life – to see everyone getting along.
I am thankful for having a home, where I am brushed, fed, walked and loved.
And . . .
most of all, I am thankful that I finally get to eat after smelling that turkey cooking for hours, all day long, with my hyper sensitive scent-detecting nose.
No-Cook Turkey Banana Pup-Pies
Ingredients: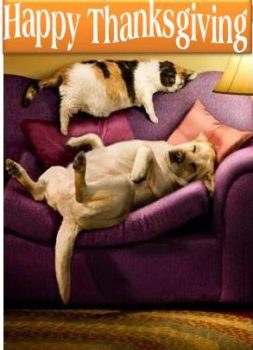 1 ½ lb Ground Turkey
1 cup of PreferenceTM Dehydrated dog food, rehydrated with 1 Cup of warm water
2 tbsp of Milled Flaxseed
1 tsp Coconut Oil
Full Fat Plain Yogurt
Dehydrated Banana Chips
Coconut Flakes
Preparation:
Mix in Turkey with rehydrated Preference, Flaxseed and Coconut Oil until ingredients have been mixed evenly.
Roll into meatballs, then roll each meatball inyogurt, and top with Coconut Flakes and Banana Chips.
Refrigerate and take out when you are ready to serve!
Recipe courtesy of: The Honest Kitchen's recipe book, Made out of Love © has more than 65 recipes for meals and treats you can prepare (and some to actually share with) Fido. Many of the recipes are made from ingredients you are likely to find in our own pantry: www.thehonestkitchen.com

In appreciation to:
Terre J. Scott for contributing this article, and
With credit to Fido Friendly (Spring, 2016) for the recipe in this post.