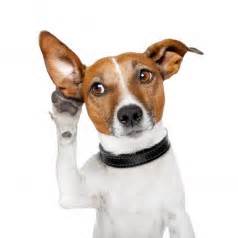 We recently heard a story from a hearing-impaired woman whose service dog awakened her in the middle of the night, barking ferociously. The woman turned on the light, didn't see anything wrong, told her dog to hush and went back to sleep.  A few minutes later, her Labrador retriever started barking again. Then, she heard him growling. When she turned on her bedroom light again, she was shocked to see her gentle service dog chasing a man through her apartment. The man crashed through a window and got away.  What might have happened if her service dog didn't chase the man outside is frightening to contemplate. But this is far from an isolated incident.
Most people know that dogs generally have superior hearing compared to people. Almost anyone who has a dog can tell you that even with a television blaring, children yelling, and music thundering, their dog can hear a biscuit drop on the floor and come rushing in to snatch it up. This is why a dog can often beat the best installed alarm system and, indeed, why dogs have been used for thousands of years to guard home and hearth.
In a similar experience to our first story, Nellie, a 4 year old black Labrador, also used her high powered hearing to detect an intruder. Trained by Hearing Dogs for Deaf People in the UK to assist her deaf owner, her actions received  the "Heroic Hearing Dog of the Year" award. On a recent holiday her human explained: "It was the middle of the night and Nellie woke me. I thought she had made a mistake so I told her to get off the bed. But she jumped up again, alerted me and dropped to the floor in the emergency position. I then sat up and put my glasses on and saw that the door to the room was open and a man was standing in the doorway looking at us. I put my hearing aids in, and as I did this Nellie jumped on the bed again and placed herself between him and the children. I told the man to leave and eventually he did. During the whole episode, Nellie did not flinch but sat and protected the children with her body."
In giving out the award, TV presenter Matt Baker, said of Nellie: "A heroic dog that has not only given a new lease of life to Gill, but also given her son his childhood back. In addition she has prevented what could have been a potentially horrendous ordeal occurring. A hero in anyone's eyes."
"Hook," a Chihuahua and Jack Russell mix, a service dog for the hearing impaired, worked with a woman who has trouble hearing environmental sounds, especially when outside. Crossing a busy intersection during rush hour, the woman didn't hear a train coming up behind her. As the woman stepped on to the tracks to cross over, "Hook" jumped on her and pulled her off the track. The train missed her by only inches.
Not every heroic story based on a dog's sensitive hearing comes from a service dog trained for this purpose. At 4:30 am in Utah, a twelve-pound Yorkie-poodle mix heard an intruder creep into the home. The couple living there slept as the man pried open a screen and sliding doors.  Then, the family relates: "As soon as he heard the intruder, he went berserk and chased him out of the apartment . . . . It's really comforting that he knew something was wrong and that he reacted." (Israelsen-Hartley, Sara, "Tiny Orem dog uses big ruff-ruffs to take a bite out of crime," The Deseret News, Feb. 26, 2008)
What is the lesson to be learned from these (and many other) stories where the exceptional hearing of a dog translates into action that saves their human partner's life?  I think it was best expressed at the conclusion of similar stories related in the book, Power of the Dog: "Dogs may be small in stature, but their hearing strength is Herculean–as the yorkipoo from Utah can attest (Krantz, Les. Power of the Dog. New York: St. Martin's, 2009, p 37).