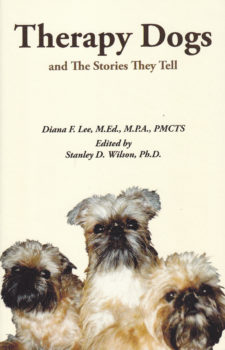 In the U.S., therapy dogs are not service animals and, under the law, are not afforded the same privileges. Yet, most people know how invaluable a therapy dog can be, and their beneficial impact, particularly during catastrophic events, has been well documented.
The use of dogs to ease suffering is an age-old phenomena.  However, their use during private therapy is a relatively recent development.
The first documented use of pet-assisted therapy was in the 1960s when child psychologist, Boris Levinson, published a paper about the progress made with disturbed children when his dog, Jingles, was present. Children, who were withdrawn and uncommunicative, interacted positively with his dog and, subsequently, opened up during their therapy session (Levinson, 1969).
The notion, however, of using a dog as a therapeutic adjunct as part of a formal therapy session, was so startling that Levinson's idea was initially ridiculed. There was, however, an undercurrent of consensus, even if the practitioner could not "prove" a causal relationship between the presence of a dog and any beneficial changes to the patient. There was also precedence for this idea, albeit undocumented, from one of the foremost thinkers of psychology, the Father of Psychoanalysis, Sigmund Freud.
Freud kept many dogs and often had his favorite, a chow chow named, Jofi — or Yofi, attend many of his psychoanalytical sessions. Although his writings do not specifically mention any potential effect of the dog's presence to either highlight or hinder his patients' progress, he evidently recognized the animal's beneficial aspect since Jofi became a regular attendant during sessions.
Now, as the old commercial used to say, "We've come a long way baby."  Today, we understand and respect the potential value of therapy dogs, and their use crosses a broad range of settings, from schools, to nursing homes, to comfort animals during national tragedies and personal ones. Even within our society's strictest measure, the judicial system, the increasing appeal of therapy dogs to elicit testimony from traumatized children and adolescents has been well established.
It is interesting, then, that so few therapists include a therapy dog in their practice.  In Therapy Dogs and the Stories they Tell, author Diana F. Lee, uses her own three dogs, a trio of Brussels Griffons, to augment her sessions.  This is a charming book, with a serious undertone: these dogs are not just pets.  Lee did two things that set her work apart from the general counseling session with a dog underfoot: first, the dogs were specifically trained and accredited by Pet Partners® (see contact in references below), and second, Lee is adept and perceptive in her use of the animals.
Not everyone would love to have a dog present in their counseling session, no matter how adorable or appealing the animal might be.  Nor does everyone love dogs.  Even people who generally like dogs, and love their own, might not love yours. Thus, what impressed me most about this book was that – in addition to the many interesting, amusing, and sometimes sad stories of people in her counseling sessions – is the fact that Lee does not force the dog(s) on her clients, but brings one or more into the session only after a careful analysis and assured agreement on the part of her client that this would be a welcome asset. In an unobtrusive way, Lee then models appropriate behavior in the way she treats her animals, allowing clients to absorb this interaction as a subtle directive for their own relationships.
Not only is this an interesting book for the lay reader, but may serve as an instructive guide for practitioners who wish to use a dog in their own practice.
To order this book (available in print or Kindle) and others written by Diana F. Lee, M.Ed., M.P.A., PMCTS, go to: www.dianaflee.com.
References noted in post:
Levinson, B. (1969). Pet-oriented child psychotherapy. Springfield, IL: Charles C. Thomas.
There are various organizations which provide training and certification for Pet Therapy. For information regarding the one mentioned in this post, click here: Pet Partners.