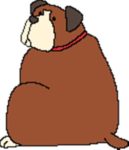 Trainer:  "Your service dog is FAT!"
Me:  "Oh no, he's not fat.  He has a lot of fur . . ."
Oh, oh. How many times have you given someone that excuse?  Of course our trainer wanted to keep my service dog in the best condition possible. The culprit, of course, was based on the reality that he was getting far too many treats and not enough exercise.  Just like his human partner.
It is as true for dogs as it is for people: extra weight places more demands on the body's organs. Our trainer has repeatedly stressed that overweight dogs often develop serious problems. Dr. B has a large service dog, and this extra weight, our trainer cautioned, can seriously damage his joints, bones, and ligaments. His life as a service dog, indeed life itself, could be seriously shortened.
Extra weight can also promote a host of serious problems including:
•    Heart disease and increased blood pressure
•    Respiratory problems
•    Heat intolerance
•    Decreased liver function
•    Increased surgical and anesthetic risk
•    Reproductive problems
•    Digestive disorders
•    Decreased immune function
•    Skin and hair coat problems
•    Increased risk of cancer
•    Decreased quality and length of life,
•    and more . . . !!!
Tom Melby, the owner and director of an animal shearing equipment company called Clippers Ireland, sent us the marvelous infographic below. He wrote: "As you can imagine I am passionate about animals, and recently created an info-graphic entitled: "Creative Canine Fitness."
We thought this was timely, especially in light of recent research showing at least 25% of dogs are now overweight!
To order clippers for your dog, or other animals, please click here to go to their site: Clippers Ireland.
Thank you Tom for this great infographic
to help our dogs stay fit and healthy!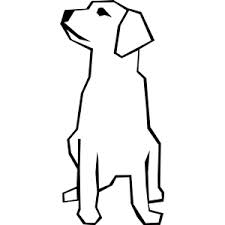 For a scholarly, fact-based study re overweight problems in pets, see:
Alenza, DP; Rutterman, GR; Pena, L; et al. Relation between habitual diet and canine mammary tumors in a case-control study. Journal of Veterinary Internal Medicine. 1998;12:1