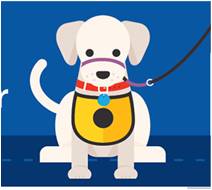 When you've seen service dogs, have you wondered how they're trained? Would you be surprised to learn that you can do this, even if you are not a professional trainer or, perhaps, have never trained a dog before? To answer these questions, we recently received a marvelous infogram from Chelsea at Ghergich & Co. who also wrote the introductory text below.  [Thank you Chelsea and company sponsor, PetCo!]
Everyone has probably seen service dogs, helping people who have physical challenges operate more effectively in their day-to-day routines, or providing specialized assistance to others such as disabled veterans. But what goes into the training of a service dog to make it such a great companion?
For starters, there's the gear:
Different leaders (e.g., leashes), help dogs learn to respond to various tasks and to-dos. A "gentle leader," for example, allows a service-dog-in-training to eat and play, while learning to focus on his or her handler.
A vest is a great tool to use for puppies and dogs in the community, allowing others to know that the dog is working and should not be disturbed.
Although gear is important, so too are the people who train service dogs. The end result of the hours, weeks, and months involved is not a pet, but a hardworking animal that provides help to aid people across a wide range of disabilities.
It takes a variety of skills, including the willingness to take an animal into the community so the potential service dog develops the social skills necessary to daily life.
There are also different types of service training programs that provide dogs to people of different needs—guide dogs for the blind, hearing dogs for people with auditory impairments, balance dogs for people with Parkinson's, dogs who alert to an oncoming seizure, dogs who help returning veterans with PTSD, and so forth.
Interested in learning more about the specifics that go into helping train a service dog? Use this graphic to get started.
For an expanded version of this article, go to:
https://community.petco.com/t5/Blog/Training-Service-Dogs-From-Puppy-to-Invaluable-Partner/ba-p/70451
Save
Save
Save
Save
Save
Save
Save
Save