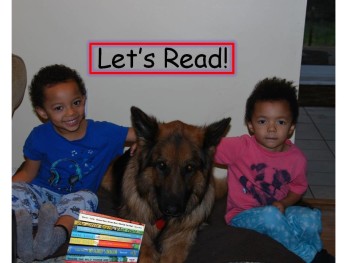 Did you know that a service dog can help teach a child to read, and sometimes do a far better job than any specialized tutor or teacher ever could. What? You may be thinking, "How can a dog teach my child to read?"
Obviously, the dog doesn't suddenly begin talking and forming phonetic sounds of letters that the children mimic; but, what they do to help children learn to read just might have a much greater impact on creating strong readers.
Remember that feeling of sitting in a classroom filled with other kids your own age, when the teacher calls on you asking you to read aloud? For some, this scenario holds no special memory. For others, it strikes terror and panic, with memories of a host of eyes glaring in anticipation. In this awful moment, you were sure everyone was waiting for you to stumble on a word. Laughter filled the air as the other kids watched you sink under your desk in embarrassment. This scenario plays out in schools across America every day, but dog owners have discovered a solution that eases the fears and social trauma associated with reading.
Service dogs are also therapy dogs in their own right. At least the child who is a hesitant reader thinks so. Dogs are being used all across America in libraries, schools, after-school community organizations, and even in private homes to help children feel comfortable about reading.
The way it works is this: the child sits down with the dog and reads to his or her furry companion. Sounds almost too easy to work, but it does.
The science behind this scenario has shown that dogs make the child feel at ease and not threatened, because a dog will not judge the child's reading ability. The dogs also have a physically calming effect on the child, like hugging a stuffed animal, only the dog responds with accepting reactions like tail wagging or nuzzling. Using dogs with children who read to them has helped those who struggle with self confidence for reading aloud, those with learning disabilities, or those who are learning English as a second language and still carry an accent or mispronunciations.
Almost any calm, good-natured, well-trained dog can be a therapeutic aid to help a child read aloud.  While this includes many fine dogs, service dogs are particularly apt for a program like this because they have been highly trained and socialized.  Therefore, any parent, teacher or librarian can feel confident that if a "reading aid" is a qualified service dog, such a program could become be a major contribution in bridging the reading gap for a child's critical educational development.
Tere J. Scott sent this interesting article on a unique reading program. (Thanks Tere!) Click below:
http://college.usatoday.com/2016/02/25/kids-reading-books-to-shelter-dogs-is-helping-them-get-adopted/