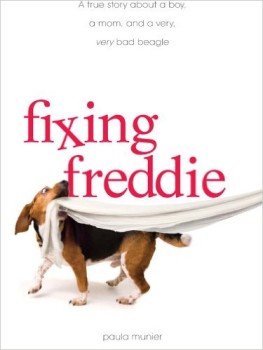 We know you love your service dog, your show dog, your Canine Good Citizen dog and even that rascal Heinz-57 who just tracked in mud all over the floors you just finished scrubbing.  If Valentine's Day is a chance to remind those we love how much they mean to us, then your dog will receive lots of extra attention today.
So, we decided to dedicate this post to giving a gift of love to YOURSELF. Flowers? Nah… they fade and die so quickly. A Spa Day? Okay, that's getting better, unless, of course, you are snowed in and don't have the energy to dig out the car to get to a spa. Someone to make you a glorious dinner? Right, like that's really going to happen – not.
What about a great, laugh-out-loud yet sympathetic story of a woman who has gone through two divorces, raced back and forth across the country for jobs and ex-husbands and, then, in a completely miscalculated effort to appease her young son (who had been dropped down, once again, into a new environment, new school and new neighborhood) caved into his wish for another dog, specifically, a puppy. They already have a lovely golden retriever and a cat, but getting a puppy for a young boy who clearly needs the steadfast companion of his own dog sounds good, right?
So, mom and boy go off in search of the ideal puppy, a steadfast companion for both lonely mom and boy, except the kind of dog they think they're getting, an adorable puppy, one that will share this rather upended household in his or her quiet, loving way, is . . . (wait for it) a Beagle.
Let the fun begin.
Fixing Freddie: A TRUE Story about a Boy, a Single Mom, and the Very Bad Beagle Who Saved Them (Adams Media, 2010), is the story of one determined woman, former editor now literary agent, Paula Munier, who keeps this beagle, a total miscreant, against everyone's advice because she loves her son and, truth be told, she loves this darn, impossible, irrepressible, insane beagle. And, as the reader soon discovers while learning about the author's life, and her travails, the maddening, unpredictable Freddie is a metaphor for her own permutable life.
This is a story perfect to give yourself as a gift for Valentine's day or to your own special valentine, because it's full of heart.
Happy Valentine's Day
from all the dogs and their humans at My Magic Dog
But, before we go:
Knock. Knock. Who's there? Olive. Olive who? Olive you!
Knock. Knock. Who's there? Pooch. Pooch who? Pooch your arms around me, Sweetie!