1.    I will not eat yellow snow.
2.    I will stop trying to find the few remaining clean pieces of carpet in the house when I am about to throw up.
3.    I will not chew anymore pens, especially the ones with red ink so my people think I am hemorrhaging.
4.    When in the car, I will not insist on having the window rolled down when it's raining outside.
5.    I will stop waking up my humans at 3am because I was too lazy to "go" when they went to bed. (Also, it was too cold.)
6.    I will not bark and rush the door each time I hear a door bell on TV.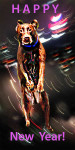 7.    I will try to stop shedding (but that's not my fault!)
8.    Big dog: I will stop trying to kiss everyone who comes to the front door and therefore ruining the reputation of big dogs everywhere.
Small dog: I will not walk under the big dog when he is peeing.
9.    I will not play tug-o'-war with Dad's underwear when he's on the toilet.
10.    I will not bite the officer's hand when he reaches in for Mom's driver's license and car registration.
11.    I will not suddenly stand straight up when I'm lying under the coffee table.
12.    I will find out where the garbage collector is taking all our stuff that he's stealing.
13.    I will look for a soulmate at our local animal shelter.
14.    I will send more happy vibes into the universe, even for those people who prefer cats!
15.    And a personal note from my own service dog, Morgan:
I will stop feeling like a 2nd rate transportation vehicle just because I was named "Morgan" after the kind of horse my mom couldn't afford and the incredibly expensive car she couldn't afford either!  However, I will not give up smiling at all the children who ask if they can "ride" me.
And, finally, from our favorite Twitter feeds of 2015:
Top Dogs:
All of them.
Get a degree in petting dogs:
A pedigree.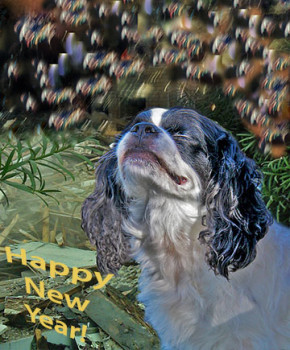 . . . and from the MyMagicDog team, a Happy New Year to all our friends, followers and dog lovers everywhere!
Special thanks to photographer Gloria Yarina for the wonderful photos of our Happy New Year's Dogs. To see more of her work, just click on her name.