From the files of My Magic Dog, here are some stories to give you a couple chuckles, and a little reminder of how our clever dogs (be they a service, working dog or companion pet), can get us into a whole host of trouble!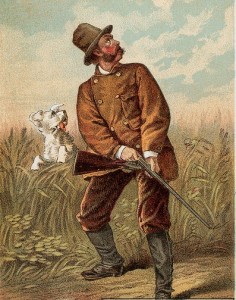 Revenge from a Hunting Dog (you decide)
Just after the turn of the millennium, Kelly Russell and his dog, "Stinky," were hunting in an exotic no-hunting-allowed forest near their New Zealand home.  Tired after a long morning tramping in the woods, Russell decided to take a break.  That's when he made a grave mistake: he put his rifle down on the ground.  Stinky jumped on the gun and it fired, hitting Russell's foot. Russell lost his foot, and was fined $500 for hunting illegally in the forest.
Wish we could say this is the first time a dog shot his owner.  But, it's not.  For more stories like this, check out: http://news.softpedia.com/news/Dog-Shoots-Owner-with-a-Rifle-Puts-Him-in-the-Hospital-467938.shtml
A Room of One's Own (with apologies to Virginia Woolf)
In Norman, Oklahoma, the Dodson family left the house for the evening, putting their dog, Jake, in the utility room.  When they returned home later that night, they found a smoking pile of debris where once their house had been. Turns out Jake had flipped the gas line switch, which filled the room with natural gas.  When the hot water heater kicked on, boom, the gas exploded.  Happily, although the house was totally destroyed, the dog was thrown clear of the explosion and was unharmed.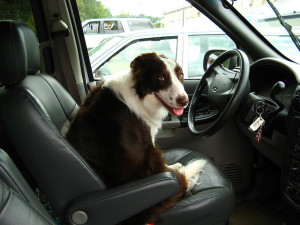 Driving Miss Daisy (may not be such a good idea)
A woman we met, told us a story about her border collie named Daisy. One day, she had more than a few minutes of terror when she got out of her car to greet a friend. Her dog, Daisy was in the back seat. But, if you know anything about border collies, then you know these are excitable, high-energy dogs. Instead of lying placidly on the back seat like your normal Labrador or French poodle, Daisy jumped into the driver's seat, managing to undo the hand-held brake and go rolling on down the lane. The woman and her friend chased after the car, which was gradually picking up speed as it went downhill.  Fortunately, for Daisy and her human, the street was a dead-end with a house facing the street.  Daisy and the runaway car rolled right into the driveway and the house-owners garage.  No word on the reaction of the house owners.
Take Your Dog to Work Day (or, maybe not)
To mollify the tedium of his work, Glen Shaw, sometimes brought his dog, Bear, along as he collected trash on his route in New Hampshire.  The dog was well-behaved and appeared to enjoy the ride.  Then, on December 20, 2001, Shaw got out of the 10-wheeled compactor truck to pick up some garbage and that's when everything went haywire.  Bear released the hand brake.  The truck rolled downhill with Shaw running after it and plunged in a river.  Shaw, bless his heart, jumped into the river to rescue his dog, and he did.  Bear was not much worse for the wear and tear, but it took a hazardous waste crew several hours to clean up the mess from the load of garbage that had spilled into the water when the truck rolled into the river.
What do you think of these Canine Capers?
Here's one of our faithful reader's reactions: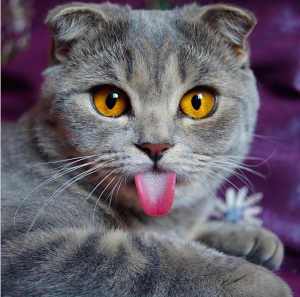 "No doubt about it.  Dogs are a cat-astrophe!"
Do you have any stories of near-disasters caused by your dog?  Please share!  We'd love to hear from you.