For people who want to read about dogs, but are looking for something more serious than books about happy dogs or cozy dog-sleuth mysteries by authors such as Spencer Quinn (To Fetch a Thief; Dog On It), or need something more scientific than the wonderful stories by British veterinarian James Alfred "Alf" Wight (whom dog lovers know by his pen name, James Herriot), or even want to bone up (oops, pardon the pun) on more current observational studies than the classic The Hidden Life of Dogs by Elizabeth Thomas, we canvassed the current literature to bring you these fine tomes. We hope that one or more may pique your interest. Certainly any one, or all, will help you enhance the quality of life of your beloved dog — and probably yours as well!
The Other End of the Leash, by Patricia McConnell, Ph.D.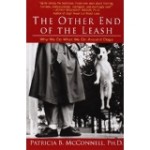 Besides this book having one of the greatest dog covers ever, author Patricia McConnell, an applied animal behaviorist and dog trainer, explains why we behave the way we do around our dogs and how how they might interpret our behavior. Highly detailed, well researched but imminently readable, a great read for anyone who realizes that the way we interact with our dogs is the key to bringing out the best in them. A must read for everyone who loves dogs and wants to understand them on an entirely new level. Paperback, 246 Pages, $16.00.
Good Old Dog: Expert Advice for Keeping Your Aging Dog Happy, Healthy, and Comfortable, by the Faculty of the Cummings School of Veterinary Medicine at Tufts University.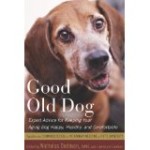 This important resource provides essential advice to help your dog age with health and well-being through his later years. Provides nutritional advice, and a way to evaluate complicated procedures and issues to determine what's best for your dog in his or her declining years. Includes the cost of caring for an older dog, identifying and managing cognitive decline, coping with loss, and more. Paperback – 288 Pages, $14.95
The Veterinarians' Guide to Your Dog's Symptoms, by Michael S. Garvet, DVM, et al.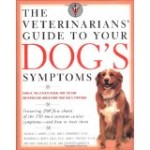 This encyclopedic compendium is not expected to replace your veterinarian. But it is the definitive resource to help the lay person interpret their dog's symptoms. Contains more than 200 charts and detailed medical drawings in an easy-to-follow layout. Paperback, 222 Pages, $17.95
101 Dog Tricks, by Kyra Sundance and Chalcy.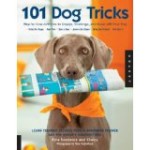 Professional trainers love this book because it gives step-by-step instructions on activities that engage, challenge and help humans bond with their dogs. The non-professional loves it because each trick has a rating guide to show how easy or difficult it is, with prerequisites to get you started quickly. Hundreds of clear, four-color photos and training tips. A fun way to keep you dog mentally and physically challenged.
When Pigs Fly! by Jane Killion.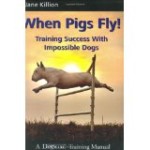 Do you have an impossible dog? Actually, the problem may be more you than your dog.  The trick is to understand how to get your dog in the proper place where he or she is responsive to learning.  In fact, 80% of dog training is about getting your dog in a frame of mind where he is willing and able to pay attention and learn. Includes over 170 photographs to help you learn the techniques that lead to good behavior. Seasoned trainers take this book seriously. Paperback, 192 Pages, $17.95.