Whether you have an assistance dog (service, guide, or signal/hearing), a working dog, therapy dog or just a beloved companion dog, chances are you will be buying him or her a present this holiday season. Can you guess the percentage of people who do buy their dog a gift?  Would it be 8%, 13%, 26%, 56%, or 75%?  (See the answer below).
But what to get your dog for Christmas?  To help you decide, we've rounded up some of our favorite gifts.  We hope that one or more of these ideas might inspire you.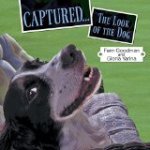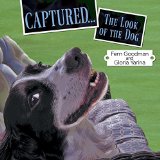 Favorite Book: "Captured . . . The Look of a Dog."
Who among us doesn't love pictures of dogs?  With their special personalities and whimsical reactions, the two authors have truly "Captured . . . The Look of the Dog."  The photos are interspersed with funny stories, touching poems, and quizzes.   This is my favorite "dog book" to give to friends this year.  ($18.95; Purchase directly from the authors via email at:  thelookofthedog@gmail.com, or on line. A Kindle version is also available.)
De-Icer: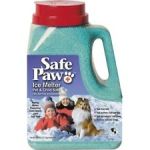 Most melting compounds are dangerous for dogs.  They can burn their feet or even be poisonous if ingested. Safe Paw deices walkways but is safe for your pet. (About $15-20 for 8 lbs. Available at most pet stores, Amazon and petfood.com.)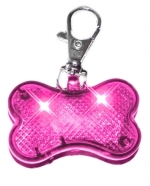 Safety Light Blinkers and Collars

Attaching a blinking light or collar to your dog may be one of the best investments you'll ever make.  Most of them come with rechargeable batteries.  If you've ever gone through the despair of losing your dog, especially at night, you will be thankful for this.  (Wide variety of blinkers and collars available through pet stores and on line.  Blinkers range from $1-12; collars from $6 up.)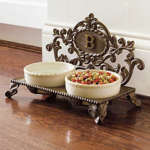 Fancy-Schmancy Dog Bowls
For that extra-special time (Yeah — grub's out — ring the gong!) we present to you the Personalized Decorative Baroque Pet Feeder ($199 for item: 59306) from Frontgate.  This fine company has a variety of feeding stands, and especially for larger dogs, we value the fact they carry a variety of raised ones. (http://www.frontgate.com/pet-products/pet-feeders/elevated-ergonomic-pet-feeders/)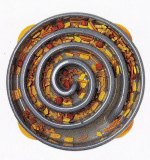 Mealtime Maze
Many dogs gobble up their food as fast as they can.  Here's something that can slow them down.  A special feeding bowl with a spiral that makes your pet work a little more for their kibbles and bits.  A rubberized bottom prevents slips and spills. ($25; Available at wag.com. Search term: "Slo-Bowl Feeder")
And, for after eating . . .

Greenbone biodegradable bags, made from sustainable & renewable corn products. (Various sizes and prices. The 12 pack bio-refill rolls shown here are available at Target and on line for about $12.95).

Note: MyMagicDog.com receives no incentive or other fees for listing these gifts.  We picked them out because they seemed unusual or useful.  Therefore, mymagicdog.com provides no guarantee for any of the above items.  As always, do your own research to ensure quality of the product.
THE BEST GIFT:
Donate to your local animal shelter and one (or more!) of the national humane organizations.
Ans: 56% .  (AP-Petside.com Poll, October 13-20, 2010, GfK Roper Public Affairs and Corporate Communications.)