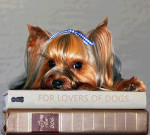 My Magic Dog is delighted to tell our readers about a creative and fascinating book about our canine friends.  What a treat to discover a new book, which illustrates through photos, stories, poems and quizzes, the incomparable wonders of the dog.  Please enjoy these excerpts from:
Captured…  The Look of the Dog
by Fern Goodman and Gloria Yarina
 
Oh Poodiful
Oh, Poodiful for spacious skies.
For curly waves of fur
For Poodle mountain majesties
Above the pooted bur
America, America…
Dog Art
Dogs are steadfast like a treasured work of art
Looking back at you, tugs at your heart
Mold the magnitude of a dog from a ball of puppy clay
Sculpt an obedient canine from the materials of a stray
Paint the façade you desire on a canvas that you spray
Design the joy and demeanor with a detailed bouquet
Dogs are precious like a treasured work of art
The look that connects you, tugs at your heart
The Aww Factor
Acquiring a puppy will change my status quo
I'll have a devoted partner wherever I go
Treating them right, is certainly the key
I better grab this one before Oprah Winfrey.
Charmed, I'm Sure
Daddy hasn't been home for a long time. She's daddy's little girl-dog. How could he leave her? She's his Princess. She doesn't like being here with mom and the kid. They're weak; they have no control over her. Their dirty laundry is used as her chew toys. Princess deliberately runs wild in the house, tears up newspapers, knocks over plants and spills her water bowl. When she's not impersonating a destructive tornado, she stares out the front bay window in wait for him to come home for her. They had played ball together, he took her on car rides to the park and rubbed her belly every night. Yes, she had had daddy wrapped around her little paw.
Princess sees him, tail wagging, banging against the wall. No, it's not dad, it's another man. Her momma's been busy. The man is coming in the house. Princess instinctively acts shy, they like that.
This new man puts a leash on her. They go for a walk, just the two of them. He smells nice. Princess does what any red-blooded female canine bitch would do; she gets his attention and bats her big grey eyes. Gazing up at him with obvious genuine devotion, her look captures the heart of this man. He grabs her up and nuzzles her face. She has charmed him in that split second. Now she's his Princess.
I wonder if she gives lessons.
Secret's Out
She whispered, "I hear they wrote a book about us."
His answer, "How fascinating."
She excitedly replied, "Absolutely, I can't wait to read it!"
His retort, "Darling, don't take this the wrong way, but you can't read."
She hrumphed, "Hrumph."


We hope the above excerpts have intrigued you. But they are only a small part of this wonderful book:  Captured . . . The Look of the Dog.
The authors are giving ten percent of their net profits to non-profit rescue groups who post the book for sale on their website.  (For further information regarding this, write to: thelookofthedog@gmail.com)
To pre-order the book, which is in paperback, please mention My Magic Dog and you will receive a signed copy!  The cost is $18.95; order Captured . . . the look of the dog, by emailing the authors at:  thelookofthedog@gmail.com.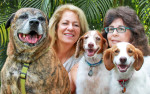 Authors Fern Goodman & Gloria Yarina
with three of their four dogs:  Tony, Sonny, and Lady.
(Jen decided not to participate.)