Whether you have a service dog or companion pet, we hope these ads will give you some laughs.  All of them except, possibly, "Single Black Female," are genuine and appeared in various newspapers.
But, before we begin, there is an adage we think fits this post: Keep your mouth shut and people won't know how stupid you are — put it in writing and prove it!
DOG FOR SALE. Eats anything and is fond of children.
BARGAIN PRICE. Great Dames for sale.
FREE YORKSHIRE TERRIER. 8 years old. Hateful little bitch. Bites
FREE PUPPIES: ½ Cocker Spaniel, ½ sneaky neighbor's dog.
PUPPIES FOR SALE. Dam: AKC German Shepherd, Sire: Super dog, able to leap tall fences in a single bound.
FREE GERMAN SHEPHERD. 85 lbs. Neutered. Speaks German.
FOUND DIRTY WHITE DOG. Looks like a rat. Been out a while. Better be a reward for this nasty little thing.
FEMALE BOSTON TERRIER PUPPIES.  7 weeks old, perfect markings, 555-1234.  Leave mess.
LOST. Small apricot Poodle. Reward.  Neutered.  Like one of the family.
FOR SALE.  Eight puppies from a German Shepherd and an Alaskan Hussy.
SPECIAL SALE:  Mr. Giggles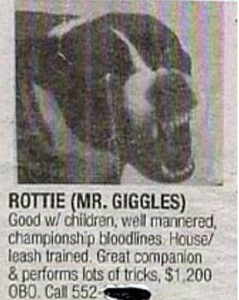 And, our all time favorite ad, which has to be one of the best singles ads ever printed. It appeared in the Otago Daily Times:
SINGLE BLACK FEMALE
Seeks male companionship, ethnicity unimportant. I'm a very good looking girl who LOVES to play. I love long walks in the woods, riding in your pickup truck, hunting, camping and fishing trips, cozy winter nights lying by the fire. Candlelight dinners will have me eating out of your hand. Rub me the right way and watch me respond. I'll be at the front door when you get home from work, wearing only what nature gave me. Kiss me and I'm yours. Call (xxx) 475-6420 and ask for Daisy.
Over 15,000 men found themselves talking to the Otago branch of the SPCA about an 8-week old black Labrador retriever.
[This ad, "Single Black Female" has been around the internet for awhile, most often attributed to the Atlanta Humane Society.  So… we don't know if it's true, but we just couldn't omit it from the list!]
And in other animal news (we just had to share):
Hope these gave you some chuckles. Until next time,
thanks for following "My Magic Dog!"