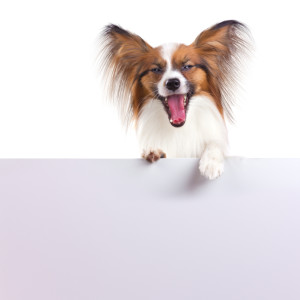 Analeise Grotton says: "The first time I saw my service dog smiling at me – and I can't think of any other word besides 'smile' to describe it – I didn't realize that she was actually trying to tell me something. In her own special way, she was trying to alert me to an oncoming seizure. What makes it even stranger is that she hadn't been trained to do that; I had acquired a trained service dog to pick up things I dropped and to help me with things I can't bend down to do." [Analeise broke her back in 1994]
As Analeise explains, she never knew about these episodic events because they were brief and she was often alone when they happened.  But she did suspect something was wrong: "It was as if the world stopped for a moment, like I had blacked out for a few seconds. Still, I shrugged this off, telling myself I was just distracted, not paying attention, that nothing odd had happened. It never occurred to me I was actually having some sort of seizure. I didn't put it together until a few girlfriends were at my house and my service dog started her grinning and panting behavior.  The next thing I knew, one of my friends was snapping her fingers in front of my eyes and asking me if I was all right.  I had blanked out for 10-20 seconds that time and, I guess was doing a couple weird things, like smacking my lips real hard. Anyway, tests confirmed I have something called 'focal seizures.' Now I know what my dog means when she starts, if you'll excuse the expression, 'Laughing at me.'"
But do dogs actually laugh?  Besides this wonderful service dog story, the idea that dogs might actually laugh seems possible, especially when the internet is replete with marvelously funny photos of dogs who certainly do seem to be smiling, even laughing. So we collected some information – and some photos – information to give you something to consider and a few photos that, well, made us laugh out loud!
Do Dogs Laugh?
The only animal we know that seems to laugh like a human is the hyena.  But, despite their doggie-looks, hyenas do not belong to the family Canidae. However, to explore the possibility that dogs laugh, research conducted in 2001 showed dogs "play-pant," with breathy exhalation, which appears to effect other dogs.  In turn the other dogs seem motivated to playfulness.
While "play-pants" is not exactly laughter, in the same way we humans respond, dogs often look as if they're laughing. For dogs, facial expression is similar to the way we humans evaluate what someone says by how their face looks when they're telling us something.  Indeed, there are numerous studies and books on facial expression analysis and how our facial movements impact the meaning of our words.
Research shows most dogs can convey more than 90 facial expressions that other dogs can understand.
Given that we now know how important a dog's facial expressions are in relating to other dogs, some, like the bulldog, have had these expressions bred out of them.  Sadly, such canines, including for example, the infamous pit bull, consequently end up fighting their way out of trouble from other dogs simply because they cannot exhibit the appropriate facial expression of submission or disinterest when confronted by another dog. So, a perfectly sweet, playful dog might be targeted by another simply because its specialized breeding for "looks," destroyed its natural face.
Ironic, isn't it, how we laugh at the weird face of a bulldog or dogs like that whose natural state we've managed to alter beyond recognition? It is a wonder, given all we've done to the dog that any of them still like us. I only hope that if these dogs are truly laughing, they're laughing with us – not at us! (But who knows?)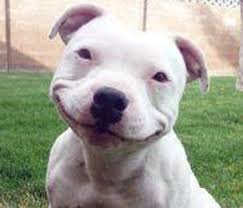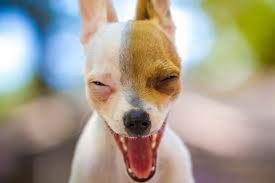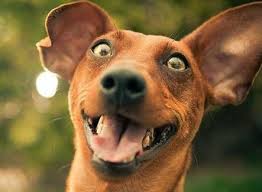 Hope these pics give you a moment to LOL.
---