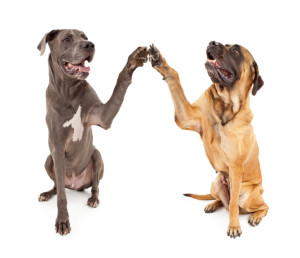 Is your service dog right-pawed or left-pawed?
According to the Institute for the Study of Animal Problems in Washington D.C., dogs (and cats, too), like people, are either right-handed or left-handed, or in this case, they favor either their right or left paws. And why would it matter?  Current research at the Veterinary Neurology Center in Tustin, California indicates that  determining laterality—or what part of the brain is dominant over the other—could one day help breeders figure out which puppies are best suited to be military, service, or therapy dogs!  (And now you know.)
Are male dogs more likely to bite you than a female?
Hah!  We bet you said "Yes!"  But you'd be wrong.  Female canine bite reports are twice as  numerous as male bites.
Love Songs
The Beatles song Martha My Dear was written by Paul McCartney about his sheepdog Martha.
Balancing on Three Legs is not Mandatory
A male dog lifts one leg when he urinates to better mark his territory. The scent can tell him many things, including size and health. (Size is judged by the height of the stain.) Actually, male dogs do not need to lift their leg!
The Nose Knows
The canine nose is one million times more sensitive than the human nose.
Faster than a Speeding Bullet (well, not quite, but pretty darn fast!)
Many medium-sized domestic dogs are capable of reaching almost 20 miles per hour when running flat. Greyhounds have been clocked at 43 miles per hour.
Chomp on This
The average dog has 42 permanent teeth. It's important to keep them clean by brushing them.  Use toothpaste made for dogs (not the human stuff!).
Hear This!
A dogs ear is very sensitive, full of sensory nerves that help to preserve hearing. Never, blow into a dog's ear.  Even doing so softly, can hurt the dog. It's not the actual act of wind, but the frequency at which you blow. It's like running your fingers on a blackboard, amplified hundreds of times. (Eeek…. just thinking about that screeching blackboard makes me want to scream!)
Bingo – It's not just a game.
The name of the dog on the Cracker Jack box is "Bingo."
Lookout Below!
The colorful phrase, "it's raining cats and dogs" has no definitive origin, but there is a likely derivation. Some say it began in 17th century England, when heavy rains swept pets down the streets.  More likely, however, is the possibility that in the polluted streets of England during this era, heavy rains would carry along dead animals and other debris. The animals didn't fall from the sky, but the sight of dead cats and dogs floating by in heavy storms could well have been the basis for this metaphor.
So, dog lovers: Was there anything on this list that surprised you?
Send us your "strange but true" facts.  My Magic Dog would love to hear from you!