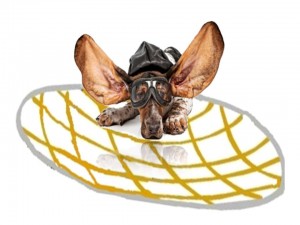 A true story:
"The dog is limping," I said to my husband.
"Well, let's wait a couple days and see how he is."
"He's limping badly. Something's wrong," I emphasized.
"Well, maybe he just sprained something.  Let's see how he is in a day or two."
"We have pet insurance," I reminded him.
"I'll call the vet right now," he said.
And this is what happened:
Fortunately, our three year old dog did have just a sprain. The x-rays showed that nothing was broken and we were given some anti-inflammatory meds. But my husband was warned to reduce his boisterous play with the dog for awhile.  We were both relieved that it was nothing more serious. The vet said it was good we had brought him in immediately. A serious sprain like this, if untreated, could have become something worse.
But how many of you would have waited a few days, just as my husband and I would have done with our last dogs – dogs for whom we had no insurance?
According to a recent, highly reliable consumer magazine, less than 1% of all dog owners have pet insurance.  Further, their findings indicate that it might be better to just put away the monthly premium (anywhere from $11 to $60 in most cases), in the event of a catastrophic illness or injury to your pet.  But there are a couple problems with this line of thought.
First, who do you know, especially in this economy, with the discipline to put away $50 to $60 each month over the life of their dog?  Furthermore, there is always the temptation to draw on those funds when your own family is in need and those good intentions can evaporate instantly in the face of a college tuition bill, or some other urgent family need. I know that when my last service dog, Mattie, became ill, I would have mortgaged the house, sold the car, and given away everything I had if it would have saved her life, assuming she would be free of discomfort and pain.  In the last week of my beloved dog's life, the vet bills exceeded $6,000 and we still lost her.
When I got my new service dog, Morgan, at the same time a neighbor acquired her new puppy, I decided to look into pet insurance for us both. Another neighbor asked me to share whatever information I gleaned as she was also considering pet insurance for her two dogs.
Almost a decade ago, I had researched long term care policies for my husband.  What a mess.  Untangling each policy with its different semantics and loopholes was a major undertaking.  Even after plotting every single aspect of coverage, costs and penalties on a spreadsheet, the result was less than lucid. I expected to find a similar, exhaustive approach would be necessary in comparing pet insurance policies.
Fortunately, the comparisons of pet insurance policies was not as odious, but it was still extremely time-consuming – except for one company, whose instructions seemed much simpler than the others, more straight-forward and direct, with no loopholes I could discover.
After several long days of intensive research, I presented the findings to my husband and our two neighbors. One neighbor decided to subscribe to our country's most popular policy; the other subscribed to the cheapest.  I subscribed to Trupanion, the one with the easy-to-read policy.
I dreaded the first visit to the veterinarian where I needed to download what I was sure would be a tangled complex of insurance pages necessary to complete for the reimbursement.  Much to my surprise, it was only one page and, in fact, I had to fill out only a brief section at the top.  It was a breeze.  We paid the veterinarian and wondered how long it would be (and what else we would have to go through) to get our reimbursement.  Would this "simple form" prove to be like all the product rebates I hated, you know the ones I mean – where you fill in the form, cut out the product code, give them a sample of your blood and then never hear from them anyway?
Just three days later, Trupanion notified me that the form had come in and they were processing it. The reimbursement check came in before our credit card bill even arrived.  One final shocker: during the next  year, when our dog was being seen for a mysterious ailment that the vet was struggling to decipher, I called the company several times to make sure that various procedures or medications would be covered.  The calls weren't necessary as the policy had no exclusions for puppies enrolled at his age, but I was still apprehensive.  Each time I called, a human being answered the phone.  I know . . . shocking.  And the answer was always, "Yes, it's covered."
Neither of my neighbors is particularly happy with their policies.  We, of course, are overjoyed by our choice: Trupanion.
Another true story:
My lovely new puppy arrived with what can only be described as a "sensitive stomach."  Good grief.  Every dog I've ever had ate with gusto and didn't much care if his bowl was filled with steak, kibble or a chunk of moldy cheese. But our new puppy was not eating and we were worried sick.  We practically lived at our veterinarian's office as he suggested one type of food over another, and we struggled with a host of medications to help our poor dog.  Finally, almost a year later, a medication he prescribed, together with what is probably the world's most expensive dog food, did the trick.  Our boy started eating and filling out beautifully.  But during all these months and with all the vet visits and all the reimbursement forms I was sending in to Trupanion, I was plagued by one worry: Like human insurance, would the company drop us?
One day, a call came in from Trupanion. The woman sweetly asked how our dog, Morgan, was doing.
"Oh, just great," I responded enthusiastically. Then, I launched into a litany of explanations of how the vet had tracked the thing in her stomach lining that was causing all the trouble, how well he was eating now, how great his poop was (did she really need to hear that, I wondered) and I talked on and on, fearful that if I took a breath, I would hear the dreaded words, "I'm so sorry, but we have to drop Morgan from our policy."
Finally, I could think of nothing more to say and braced myself for the inevitable.  I asked, "How come you happened to call?"
She said, "I forgot to note when Morgan was neutered.  Do you by chance have the date so I could put it in his file?"
"Oh…."
The moral of the story.
Get thee out and get pet insurance. We are very happy with Trupanion.  But don't take my word for it.  Do your own research. Unless, of course, you are the type of person who can put away $50 a month only to discover when the dog is two years old that the amount you've saved won't cover the cost of extracting the tv remote or the rubber ball your dog injested (both have happened to us) and you have no problem mortgaging your home when your beloved dog gets seriously sick.

Note: We are not in any way affiliated with Trupanion and the subject of this blog was entirely my own idea. I cannot comment on anyone else's experience with this company; this is ours.