10 Million Reasons to Walk Your Dog
A couple out walking their dog in Northern California stumbled across a modern-day goldmine: 10 million dollars worth of rare, mint-condition gold coins buried in the shadow of an old tree.
Nearly all of the 1,427 coins, dating from 1847 to 1894, are in uncirculated, mint condition, said David Hall, co-founder of Professional Coin Grading Service of Santa Ana, which authenticated them. Although the face value of the gold pieces only adds up to about $27,000, some of them are so rare that experts say they could fetch nearly $1 million apiece. The couple plans to put most of the coins up for sale through Amazon while holding onto a few keepsakes.
Yep – it's good to walk the dog.
Dogs taking the metro in Russia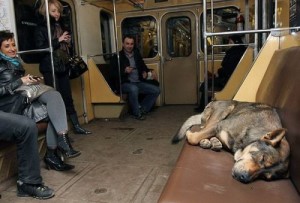 In Moscow, Russia, as many as 35,000 stray dogs live in the capital city. Somehow, these canny canines have developed clever ways to survive.  They can be found everywhere, from markets to construction sites to underground passageways, scrounging for food and trying to survive.
Among those who've garnered considerable attention are the Moscow's metro-hopping pups. What's amazing is that those Moscow dogs have the ability not to miss their stop while going on the subway train. (Biologists say dogs have very nice sense of time which helps them not to miss their destination.)  Also they often choose the first or last metro car, which is usually less crowded.
"In Moscow there are all sorts of stray dogs, but… there are no stupid dogs," said Dr. Andrey Poyarkov, a biologist who has studied Moscow's strays for 30 years.
Can't deny dat ol' DNA
Milan, Italy is nearly bankrupt so there is intense review, discussion and controversy over expenditures.  Some of that precious capital is being diverted to pick up dog poop and test its DNA to determine the miscreant who left it there.  Not me, not me! echoed the howls of dozens of dogs.
Their owners cries were conspicuously absent from the chorus.
Stray dog poop provides big time reward.
In a satellite township, Mitchell's Plain, Cape Town, one of the poorest areas in South Africa, an eight-year-old boy brought home a small, stray dog.  The mother told the boy they couldn't keep him. But when she saw his tears, she relented, offering to include the dog in the family and share their meager resources. However, she made him promise to "walk the dog every day and pick up his manure." Two days later, the dog delivered and when the boy bent to pick it up, something sparkling caught his attention: a three and half carat VVS1-D (nearly perfect) diamond. The worth of the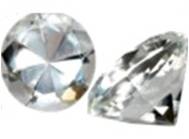 stone was set at approximately $85,000. In a country, where the mean average income is 27122 South African Rand, equivalent to $2518.630 US dollars, finding this diamond means there will be "enough for the boy's mother and her two sons to move out of the township" [and] "live comfortably for many years to come."
Yet another reason to examine your pup's leavings and, of course, to "pick up the manure."
Chihuahuas chow down.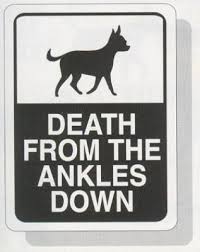 Authorities in Phoenix, Arizona received more than 6,000 calls from people who have been harassed by packs of feral, yipping Chihuahuas.  They surge against peoples legs, biting their ankles. (This Week, March 7, 2014, 4: News)
I've never tasted ankle meat (and hope I never do), but it's evidently delicious.