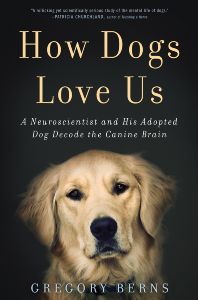 Can you imagine getting a dog – even a service dog – to go into the loud, dark tunnel of an MRI  (magnetic resonance imaging) and lie there quietly, without moving, while the machine scans the dog's brain? I never imagined it could be done or, more accurately, why someone would want to do that – unless, of course, it was to determine some brain malfunction.
But a professor at Emory University, Gregory Berns, MD, PhD, had a revelation. After years of studying how the human reward system works, he wondered how it worked in dogs. The concept dawned on him after one of his beloved dogs died.
Even after a partnership of 15 years, he realized he had never really known what his dog was thinking or feeling.
Like all of us with dogs, Professor Berns assumed he understood his dog's emotional responses, but wondered if there wasn't some way to prove them. Hence the birth of what he called the "Dog Project." He would try to invent a means to map the brain's pleasure center (caudate) while the dog responded to various cues, such as  the presence of food or one of the animal's human family. If he could figure this out, it would be the first time we could actually view how and what the dog was actually thinking from the dog's perspective instead of the human's.
Do dogs reciprocate ou
r feelings for them? Do they truly love us or do they consider us mere food dispensers? These were the questions he posed. Perhaps MRI imaging could provide the proof he sought. But how to train a dog to voluntarily jump into an MRI and stay still, without any sedation or restraints, long enough to take images of the dog's brain while various cues were given. Even for humans, the MRI feels claustrophobic and loud. Furthermore, one has to lie perfectly still during the imaging. Both aspects present a problem for dogs with their ultra-sensitive hearing and tendency to wiggle about.
By now, Dr. Berns had another dog, "Callie," whom he describes as "a long, skinny thing with sticks for leg" and a head shaped like "an anvil." His behavioral description of Callie is somewhat off-putting. This was a dog who "wasn't cuddly" and "didn't like to sit in laps." She was, for all intents and purposes, a dog as different from his previous one as one could imagine. While his former dog loved to snuggle into his armpit, Callie "would assume a position at the foot of the bed" and no amount of cajoling could convince her to cuddle.
Yet slowly and steadily, Callie learns, by degrees (and lots and lots of hotdogs), to hop into the MRI, wear sound-blocking earmuffs, and lie perfectly still. Part of the charm of this book is Berns' ability to explain step-by-step this training and its purpose – without sounding like a mad scientist nor someone going for the science prize in abstruse writing. He even brings in humorous anecdotes: so the dog could get used to it, he built an MRI simulator from Home Depot supplies which he installed at home under the apprehensive gaze of his wife who looked at this "monstrosity in her living room, a space formerly occupied by an elegant sofa set and coffee table."
With all the training this extraordinary task necessitated, slowly but surely, his own relationship with Callie changes into one of mutual attachment. Eventually, Callie curls up in bed and cuddles with the doctor.
But, back to the experiment: An MRI lines up protons in the brain so that when hit by radio waves, they can be captured as an image. Dr. Berns saw that the caudate (the part of the brain in both dogs and humans that is the center of the reward system) "lights up" when the dog was given a hand signal indicating a reward was forthcoming (a piece of hot dog), but stayed "dormant" when a second hand signal indicated that no reward was in the offing.
The MRI scans also showed that the caudate lights up when the dog sniffed the odor of someone in his/her human family but not when sniffing the odor of a stranger. This appears to confirm that the presence of a familiar person ignited feelings of "reward." This may not, perhaps, be proof of love as we know it, but it is certainly evidence of a very real connection.
From these experiments, Dr. Berns penned the book: How Dogs Love Us. A major portion of the book explains how Dr. Berns taught the dog to go into the MRI machine (remember – the dog does this voluntarily!) and in describing the process, the reader will learn much about brain imaging but also the scientific process as well as some of the political and social difficulties that surround and, too often, impede it. It's a fascinating window into the world of the scientific experiment, from a real-world perspective. Berns accomplishes this with explanations that are both interesting and readily understandable to the nonscientist.
But there is another part of the book readers will love and relate to even more: the story of his relationship with Callie. In Dr. Berns' quest to demonstrate how dogs think, his description of Callie and the mutually deepening bond that develops throughout the training process, Callie, his 19-pound, indifferent dog, wary of close contact, in the end, chooses to snuggle and cuddle.
One word of warning. Berns doesn't write only about Callie. The man is a true dog-lover and he writes of other dogs. Whenever we tell the life story of any loved dogs, there are deaths and it always hurts. Knowing their shorter trajectory in life is one of the hardest facets of having a dog.  Yet, who among us would trade in their dog because of that?
Finally, while not intentional in this scientist's effort to map a dog's brain, the book yields another aspect to which every dog lover can relate: It is not just Callie's response to cues that enamor and enlighten us, but what happens to Dr. Berns as his bond with this dog develops. It is not just how dogs love us, but how we love dogs.
Ah. . . but we knew that already.