There are some experiences in life that are so extraordinary they seem unreal. I have recently encountered such an experience, one which I wish every animal lover – especially every animal trainer – could have.
I recently attended the Hearts and Hands wild animal rescue training clinic in Ramona, California (a suburb of San Diego). Led by Nancy Nunke, an animal advocate and trainer with more than 30 years experience, the primary purpose of Hearts and Hands is to "facilitate an environment for the healing of animals.  . . [and to foster] the animals' recovery with children and adults in education and therapy programs."
From this vision grew a rescue and rehabilitation center, with a training clinic to provide better information for training and riding horses. The clinic has been an extraordinary success and people come from all over the world to learn Nancy's techniques, not only for horses, but for almost every prey animal imaginable. However, improbable as this sounds, the training program she designed grew from her observations and care of wild zebras. Zebras, she concluded, were the sine quo non educators for people to learn about horses, and she built her training program around what they taught her.
Consider the wild zebra. They may look like horses but people haven't been able to use them as horses. The reason is simple: zebras are aggressive. Unlike horses, the zebra evolved in Africa where lions are their main predator. It is not unusual to hear of  zebras killing lions. They give a powerful kick to the head, causing death or a broken jaw. Comparing the strength of the horse to the zebra, workers in Africa note that a horse could never break the jaw of a lion, while this is something a zebra can easily do. Suffice it to say that very few people have walked away after being kicked by a zebra.
A zebra doesn't just kick o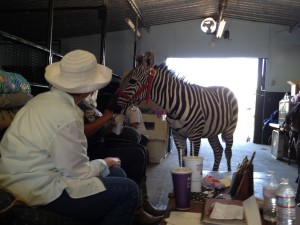 ut blindly with its legs. It bends its neck down to look between its legs in order to accurately place its kicks. Then, it bucks and kicks violently with both back legs. Zebras also inflict nasty bite wounds on each other and on people who foolishly thought they were habituated or tame.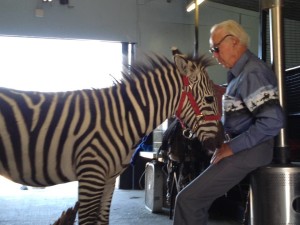 Knowing this, you can imagine my surprise as I sat comfortably on a couch in the barn waiting for the first day of training to begin, when a zebra came in and wandered around from one person to another, nuzzling for pats and affection.
By our last day of training, I saw another zebra go from being a wildly unpredictable animal to one that had reins on its back and was gently being driven as if it were attached to a cart.  (Almost anyone who has worked with zebras would say this was just flat-out impossible. But I saw it for myself.)
If the foregoing zebra stories don't convince you that this kind of training is unlike anything you've known or seen, let me tell you about one of the camels. Have you ever watched a camel lie down so someone could get up on its back? Camels have been domesticated for thousands of years, but the brutality of using multiple ropes to forcefully teach a camel to lie down (called "cush") is unconscionable. Because I know the tender hearts of my readers, I will not explain any further how this has been done over the centuries.
Yet, at Hearts and Hands, as another example (and in my mind proof) of the effectiveness of their training program, a two-year-old camel lay down simply because she was asked to do so. And by this I mean, the camel lay down without any restraints except a brief, gentle tug on a rope halter. But here is the amazing part – a story that I, alas did not witness – but was verified by others who did. When this camel was rescued and came to the ranch for training, she learned to lie down in exactly 24 seconds! Without any force being used, nor any mysterious techniques other than preliminary touch training, which is an essential part of the Hearts and Hands friendship training method, Nancy simply asked the camel to lie down. (Full disclosure: there was a bit more to it than that, but no force was involved. Nancy's assistant trainer did things like mimic the camel's movements and, to show her what was requested, crouched down next to her.)
The examples given above are only a few instances of those I saw during the Hearts and Hands clinic, which convinced me this may be the most important training program ever conceived. If I were to describe many of the other things I saw, most people would listen respectfully and then mutter to themselves: "impossible." Or they would think I was delusional. I suppose I would think the same thing myself if I had not witnessed and participated in the training myself.
Future blogs will explore other facets of this organization, the training developed at Hearts and Hands called, appropriately enough: Friendship Training, and stories of some of the remarkable animals there. Indeed, before the three-day clinic was over, I made some wonderful friends and some were even of the two-legged variety!
Below are some links to Hearts and Hands. I encourage our readers to visit the web site or Facebook and attend one of the small-group clinics. Private training sessions for individuals, animal trainers or ranchers are also available.
Website: http://www.hhar.org or http://www.hhar.info
Facebook: http://www.facebook.com/heartsn.hands.1
For a brief peek at a training session and a few testimonials, click on:
http://www.youtube.com/watch?v=x1fFL5FBeDA
Hearts and Hands is a 501 (c)3 organization, funded solely through the generosity of its supporters who believe that a gentle, kind and loving approach to all animals is essential to mutual safety, training and bonding. Contributions, which are tax deductible to the extent allowed by law, may be sent to Hearts and Hands through their website, or directly to:
Hearts and Hands
635 E. Old Julian Highway
Ramona, CA 92065
Email: hnhrescue@aol.com