The other day I was in line to pay at an office supplies store with my service dog sitting quietly by my side. Then, quite suddenly, I felt the leash stiffen. My dog suddenly stood up and twisted his head to look behind him. I did the same and discovered that the man waiting behind me in line was petting him.  "Please don't do that," I said. "This is a service dog and he's working."
"Oh, well," the man replied. "I have a service dog too." I was astonished. As the man continued rubbing his hands all over my dog, I said quietly, "Please stop doing that. As you also have a service dog, you should – especially – know not to pet a working dog."
The man then loudly berated me, telling me that I was rude. He stormed out of the store and came back with his "service dog" a very large, handsome dog that was, I am sorry to say, about as trained as a pet monkey who was having a very bad day. The dog pulled and barked, tore into a display knocking everything over and then lifted a leg and peed all over the floor. Clearly, this was not a trained animal. He was, however, wearing a glorious, neon-colored vest that proclaimed him to be a "service dog." (The dog was also wearing a baseball cap that said "service dog," along with a collar which had sparkles that spelled out the same thing.)
I felt humiliated that this man presented this animal as a "service dog." Things like this are undoubtedly the reason why the ADA has felt forced to take steps to refine the language in their public access regulations. Still, some people do not know that a service dog would never act like this and his actions certainly add to the fuel for those who would like to prohibit all dogs – service dog or not – from entering their premises.
What happened to me is not unique. I know many other people with service dogs who can relate similar stories, or at least have had the experience of others ignoring their pleas not to touch their service dog while he or she is working. It is important to respect this and not to distract the dog from what it has been trained to do. Yet people continue to ignore this as if their actions somehow don't count in the scheme of things – that it is, somehow, all right if they pet your service dog.
But what if the opposite situation happened? In a recent issue of Good Housekeeping magazine (May, 2013), an article entitled "What would you do?" posed the following: A person comes into a store with a dog, and not realizing it's a service dog, you loudly explain that the person can not bring in pets! Then… you realize this is not a pet, but a service dog.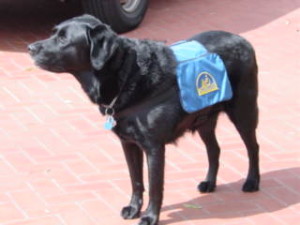 The answers published from three respondents to this scenario, were interesting. One said, "I'd apologize, then mention how cute the dog is. A compliment is worth something." Another said, 'I'd save face by saying 'Forgive me. I didn't know your dog was on duty,' " A third suggested: "'I'd say, "I'm so sorry! I had a bad incident with a dog when I was a kid, so now I'm a bit paranoid around them.' "
Do you agree with any of the three suggested responses? How would you have handled this situation, if you were the person who had spoken out?
Related articles