September is National Guide Dog Month. Today, most people in North America are familiar with guide dogs, but that wasn't always the case. In fact, early in the last century, the idea of using a dog to help a blind person get around seemed preposterous. The history of using a dog to guide someone with limited or no sight is both intriguing and enlightening.
Most people assume that the use of guide dogs began with Morris Frank in the 1920s (more about him later). Actually, the first mention of dogs used in this capacity dates back to first-century AD, where a mural in the buried ruins of the Roman Herculaneum, depicts a man being led by a dog. Other records from Asia and Europe up to the Middle Ages, show dogs leading blind men. In the 16th century, a popular alphabet verse began with: "A was an Archer, " "B was a Blind-man/Led by a dog."
The first systematic attempt to train dogs to aid blind people may have been around 1780 at 'Les Quinze-Vingts' hospital for the blind in Paris.  Shortly afterwards, in 1788, Josef Riesinger, a blind sieve-maker from Vienna, trained a Spitz so well that people often questioned whether he was blind!
In 1819, Johann Wilhelm Klein, founder of the Institute for the Education of the Blind (Blinden-Erziehungs-Institut) in Vienna, described the notion of educating the blind in a book he wrote, Lehrbuch zum Unterricht der Blinden, where he described his method for training the dogs.
The next recorded instance appeared in 1847, from a Swiss man, Jakob Birrer, who described his experience in being guided over a period of five years by a dog he had specially trained.
For a fuller and excellent historical time line of guide dogs, see: http://www.igdf.org.uk/about-us/facts-and-figures/history-of-guide-dogs/
The modern guide dog story, however, begins during the First World War, when Germany inaugurated a specific training program for dogs to help wounded veterans who had been blinded by poison gas or wounded in combat. The program was started by a German doctor, Dr Gerhard Stalling, who started to explore ways of training dogs to become reliable guides. Once he developed his program to train dogs en masse to help those affected, he opened the world's first guide dog school for the blind in Oldenburg, in August 1916. The school grew and new branches opened throughout Germany. These centers trained guide dogs not only for ex-servicemen, but also for the blind in Great Britain, Western Europe, the United States, Canada and the Soviet Union.
Although the school shut down in 1926, another large guide dog training center had opened in Potsdam, near Berlin, which was proving highly successful.  This school's work broke new ground in the training of guide dogs, providing around 100 dogs at a time and 12 fully-trained guide dogs a month. It was here, in Potsdam, that an American woman, Dorothy Harrison Eustis, came to see for herself if the claims regarding guide dogs were accurate. Her visit would prove providential.
The guide dog movement in the United States can be traced to Ms. Eustis, an American dog breeder living in Switzerland. In 1927, she wrote a first-hand account of her visit to the guide dog training school in Potsdam. From these observations, which she incorporated into her own program, she trained dogs to lead blind and visually impaired people around obstacles. The article about what she saw at the guide school in Germany and the success she was achieving in her own training program was published in The Saturday Evening Post.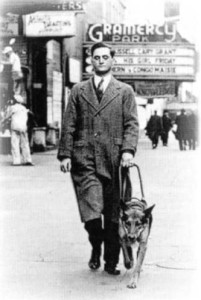 Morris Frank, a young, blind man from Nashville, was given a newspaper with the article Eustis had written.  The newsvendor selling the paper told him: "There's an article here about folks like you." When his father read him the article, Frank was determined to get a guide dog. He repeatedly wrote to Dorothy Eustis asking her to train a dog for him. She initially resisted his entreaties until he vowed to start a guide dog program in the United States, if he could have such a dog. Eustis brought Frank to Switzerland where he learned to work with one of her dogs, a female German shepherd named Buddy.
Frank went back to the United States with what many believe to be America's first guide dog. In fact, however, in 1927, United States Senator Thomas D. Schall of Minnesota had been given a guide dog imported from Germany. In spite of the evident success of the dog's pairing with Sen. Schall, the idea of using a dog to guide the blind in the United States did not take hold until Morris Frank and Buddy embarked on a publicity tour to convince Americans of the abilities of guide dogs, and the need to allow people with guide dogs to have free access public facilities. In 1929, Eustis and Frank co-founded The Seeing Eye in Nashville, Tennessee (relocated in 1931 to New Jersey).
Since those early days, there have been thousands of people who have benefited from their partnership with guide dogs. These stalwart, wonderful animals have not only provided independence for those with limited or no vision, but have frequently been the saviors of their partners.
I am reminded of the wonderful dogs, Salty and Roselle, two guide dogs who were with their partners in the World Trade Center during the September 11 attacks in New York City. They each successfully guided their owners out of the burning buildings before they collapsed. Roselle was posthumously named American Hero Dog of the Year 2011 by the American Humane Society.
Let's hear it for the wonderful guide dogs and the fine programs that provide these magnificent animals. It's National Guide Dog Month!
For further information – click on highlighted words:
Resource list of Guide Dog Schools