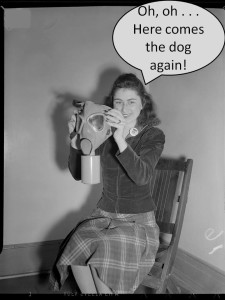 If you have a dog, you love him or her. Yet, as much as we like to "humanize" our beloved canine friends, they are really, really, really . . . not human (gasp!), nor are they cuddly little humans wrapped in fur (more gasps!). Thus, at some point or another, we bump up against truly odd or embarrassing things our dogs do and usually haven't a clue why they're doing them or even if you need to do something about them. Here then, in the first of what promises to be a long series: questions about those embarrassing moments and what, if anything, you can do to change, stop, or even (for those of you with a really sick sense of humor) increase them!
Q:    My dog gives off radium-activated clouds of gas. Is there something wrong with his digestive process or is this just a natural function for all dogs?
A:    Our expert says:
If your dog gives off gas that awful, here's what to do: Leave the room! (Ha…ha).
Okay – here's what he really said:  Excessive gas is usually caused by food – either your dog may have an allergy or is consuming foods high in protein or cellulose. Dogs that gulp their foods are also prone to gas. So, the remedy may be just to give your dog food in smaller portions two or three  times a day and to try changing around the types of food you're using. If you do change around the food, talk to your vet first and be sure to introduce new food gradually. Another culprit: human food. Just stop doing it. We know who you are – the little ones who push the food he/she doesn't like into the waiting maws of your under-the-table-pleading-to-be-fed-even-though-he-just-ate or the one who feels that baby isn't having a fulfilling life without all the tidbits that their human enjoys. Another option is to sprinkle charcoal pills on the dog's food weekly. (Find these special pills in a pet store). They work in the same way that Beano does for humans.
Finally: If the gas really is like an atomic explosion, especially if there are other symptoms like a runny stool or stomach upsets, this is a sign of something far more serious and may require immediate medical care from your vet.
Q:    When guests come into my house, my dog immediately rushes up to their crotch and smells it. How can I stop him from doing this?
A:    Our expert says:
Oh, come on. Let him have some fun! Don't you wish you could do that, especially if the other person is particularly beautiful or handsome? (Yes. Our expert is a sick puppy).
First the answer to "why" dogs like to stick their sweet, wet noses into our private areas. That's because we have a lot of scent information down there. Dogs learn more by "scenting" while humans learn more by "seeing." So, the fact that your dog is zeroing in on the most fragrant area to learn about the new person coming into the house is a perfectly natural response.
There are several training methods to diminish and, eventually, stop the dog from doing this. Here are a few to try (that you should be doing anyway, to teach your dog good manners, if nothing else):
1) Train your dog to sit and stay around guests
Attach a leash and pocket some dog treats. Provide a specific "greeting" area or "place" where your dog must sit and stay. When first giving the command, you will need to say the word and walk your dog to his area. Reinforce this with periodic treats until he/she goes to his "place" immediately. Once your dog does this correctly,  have a friend come into the house. As your friend approaches, tell your dog to sit and stay in the specific area you've designated. When your dog is in his "place," and focused on you (instead of your friend), reward him with a treat. Sit down with your friend and allow the dog to get up. But, each time your dog starts to sniff, tell him to "place." As soon as he does, give him a treat. Repeat, giving treats periodically. Practice for a week or two in 5-10 minute training sessions. Once your dog has grasped the idea that he has to sit and stay rather than standing and sniffing crotches (the doggie greeting), recruit more friends and continue practicing until he can generalize the behavior in public areas.
2) Dog Crates
Crates are NOT a tool for punishment. Used properly, your dog will enjoy the security and quiet that the crate provides. The crate is actually the natural evolutionary place for the wolf who used caves. Whenever someone comes to your house, place your dog in his or her crate. Once your guests are settled and the dog has become accustomed to their voices and scent, let him out of the crate. But, if he starts sniffing crotches, casually put him back in the crate. But, one important caution: Do not ever scold your dog when putting him in his/her crate. This is the fastest way for a dog to dread going into the crate because you will have set him up to think of the crate as punishment and not the nice, safe, secure place it should be.
3) Dog Toys
Creators of toys have invented lots of interactive types just for dogs and we especially like the treat-dispensing or sound-motivating type that can be used to distract the dog when guests arrive. These should be special toys – only provided to your dog when you have company. Having the toy constantly available invites boredom and won't promote the dog's interest and distraction needed. Most dogs would much rather play with a toy that gives out treats than sniff somebody's crotch.
That's all the time we have for today.  In a future column we'll tackle doggie nymphomaniacs (yep — they're out there!) and sexually transmitted disease.
Have YOU got an embarrassing question about your dog?  Come on, don't be shy (we've heard them all!).  Use the "Reply" form below and send it in.