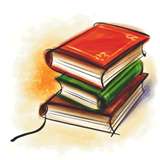 David Wroblewski, author of The Story of Edgar Sawtelle, says his book is not about a dog.  And, in the larger, more general sense, I guess he's right since every book, in some way, is about the relationships between people.  But, if this is not exactly a book about a dog, it nevertheless is one of the most sensitive and moving portraits of a dog that any author has ever created.
For writers seeking to publish for the first time, this author's story should provide motivation to keep you going.  Working as a computer programmer during the day, David wrote The Story of Edgar Sawtelle at night, over a five year period.  He didn't think it would be published and was quite surprised when it was accepted. Then, after two years, a time when even the best books have lost momentum and drop off all the lists, it became an Oprah Winfrey Book Club selection for September, 2008.
The Story of Edgar Sawtelle is a suspense novel about the adventures of the 14-year-old mute boy  named in the title and his faithful companion, his dog Almondine. The pair lead idyllic lives on a Wisconsin farm where Edgar's family raises a particularly intelligent breed of (fictional) dog like Almondine until Edgar's father's sudden death and the arrival of a beguilingly evil uncle throws the duo's lives into turmoil.
That some of the events are narrated by the dog (a very tricky device in the hands of lesser writers), lends both an unusual perspective and undeniable charm to this radiant story. Yet, this was not an easy "dog book." Full of mystery, crisis, torment, ghosts and murder, it is written in such deft prose that one quickly becomes submerged in the story. This is long book (576 pages) but once I finished the first chapter (which I found murky and difficult to understand – although meaningful once the story develops) I simply couldn't put it down. The Story of Edgar Sawtelle is a wonderful, deeply moving story. The author has promised a sequel. I can't wait to read it!
The Story of Edgar Sawtelle has been endorsed by many, including Stephen King, who called it "a novel about the human heart, and the mysteries that live there."
David Wroblewski on Dogs:
In creating a mythology around the unusual dogs bred on the Sawtelle farm in his novel, the author posed the question, "How far could we go if we stopped breeding dogs for silly physical traits and concentrated instead on intelligence and imagination?"