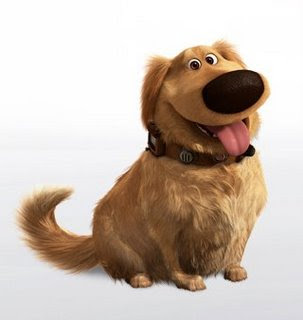 Did you see the movie, Up? Dug the dog character in Up (Disney Pixar), embodies the ideal temperament and qualities of a service dog or therapy dog:
Outgoing and friendly  to all people, including all adults and children.
Gentle and patient.
Confident and at ease in all situations.
Enjoy human contact.
Content to be petted and handled.
Tolerant of other dogs and all pets.
Many experts agree, service and therapy dogs are born with their essential temperament and then specific training gives them the skills for their role as therapy dogs or service dogs.
Dug, the famous movie dog, certainly shines in the area of temperament! He is outgoing and confident and curious. Even a giant bird was fascinating, not intimidating. And any dog who loves Russell ("My name is Dug. I have just met you–and I LOVE you!") and tolerates Kevin (the giant, flightless bird) deserves our respect and affection.
If you don't remember Dug from Up, click on the link to see a short clip introducing Dug (at YouTube):