If one searches through museums and galleries of art, you can, almost invariably, find portraits of intriguing characters distinguished by the dog on his or her lap, at their feet, in the fields or even, in their bed. But of special note are those museums and galleries dedicated to our canine and feline friends.  One museum of particular interest welcomes our furry partners: The Dog Museum of America.  Other fine repositories of images and sculptures include: The National Bird Dog Museum and an on-line museum that honors the Border Collie.
In addition to museums, there are art galleries both in the United States and abroad that specialize in canine and feline subjects.
Finally, there are specific artists whose work may be best known for their work with dogs or cats.  In a later blog, we'll review some of the most memorable paintings in this area.
MUSEUMS
•    The American Kennel Club Museum of the Dog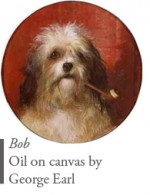 1721 S. Mason Rd.
West St. Louis County, Missouri
The American Kennel Club Museum of the Dog: "The 14,000 sq. ft. facility, which includes historic Jarville House (1853), displays over 700 original paintings, drawings, watercolors, prints, sculptures, bronzes, and porcelain figurines, and a variety of decorative arts objects depicting man's best friend throughout the ages." (Description excerpt from: http://www.museumofthedog.org)
•    The National Bird Dog Museum
505 Hwy 57, Grand Junction, TN 38039
Phone: (731) 764-2058
The National Bird Dog Museum: "This museum is "a repository of information, art, photography, and memorabilia reflecting a variety of pointing dog and retriever breeds, hunting, field trial activities, and shooting sports." (Description excerpt from: http://www.birddogfoundation.com)
•    The Border Collie Museum
An online museum dedicated to the shepherd's dog, its history, culture, and lore through the eyes of artists, writers, poets, and historians; and to the shepherds that used their herding dogs to bring the flocks safely down from the hills. (Description excerpt from the museum's web site: http://gis.net/~shepdog/BC_Museum)
ART GALLERIES
There are a number of fine-art galleries that specialize in canine and feline subjects.  Here are just two with excellent displays of animal art:
•    William Secord Fine Arts (New York City )
Secord Fine Arts also keeps its customers' breed preferences and will notify you of any new items of interest. http://www.dogpainting.com/index_new.cfm
•    Dog & Horse Fine Art and Portraiture (Charleston, SC, in South Carolina)
". . . a source for dog and horse paintings and sculptures by top quality nationally and internationally known artists in the United States and Europe who create 21st century works of art, as well as portraits of animals and their human counterparts." http://www.dogandhorsefineart.com/
The above is only a partial listing of museums and galleries which feature our companion animals.  If you have a favorite museum that features dogs (or other animals), please let us know by sending the name and address in the comment/reply box below.  Thank you for sharing!